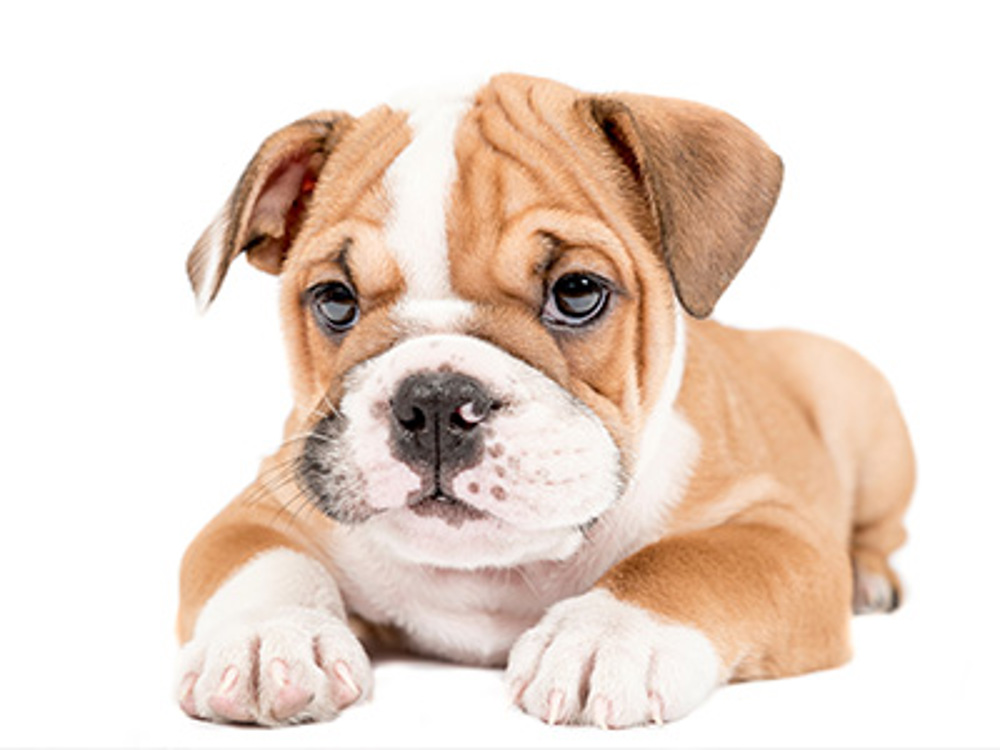 Improving the health of brachycephalic dog breeds and any other breed with health concerns is The Kennel Club's top priority. We are a not-for-profit organisation and have invested almost £4 million in the last decade into research that will help to improve dog health.
It is estimated that around 70% of dogs in the UK are not registered with The Kennel Club and are therefore bred outside of our sphere of influence. With physical exaggerations that are driven by fashion because it is perceived to look 'cute', we work hard to inform people about the health problems that can come with this.
The Kennel Club and University of Cambridge Respiratory Function Grading Scheme
Our respiratory function grading scheme was launched in 2019. It evaluates Bulldogs, French Bulldogs and Pugs for a progressive breathing disorder that can have a life-limiting impact and can impair a dog's ability to sleep, eat, play and exercise. For the assessment, a specially trained assessor uses a stethoscope to listen to a dog's breathing while it is calm and relaxed, and then again after three minutes of quick-paced exercise. Each dog is then given a grade from 0 to 3, with grade 0 dogs being unaffected and grade 3 dogs showing severe signs.
Raising awareness of breathing issues
Our free and easily accessible film focusing on Bulldogs, French Bulldogs and Pugs examines the signs of brachycephalic breathing problems, factors that can make the condition worse, as well as the latest research in this field. 
Funding research into breathing issues
The Kennel Club Charitable Trust has put £170,000 of funding into groundbreaking research at the University of Cambridge helping us to understand more about brachycephalic breathing problems. Knowing more about these complicated issues will help us develop better treatments for affected dogs, ultimately creating breeding resources to produce healthier puppies in the future.
Raising awareness of brachycephalic health issues
Our brachycephalic health zone provides information to owners, breeders and puppy buyers on the health issues that may affect some brachycephalic dogs. Issues covered include breathing problems, eye problems, skin issues, spinal problems and birthing issues.

In addition, we include information on the specific issues faced by each brachycephalic breed in our Breeds A to Z, which acts as a central hub of important breed information.
Funding research into brachycephalic health issues
The Kennel Club Charitable Trust is partially funding vital research at the Royal Veterinary College, looking into the prevalence of health and welfare issues in a number of different breeds. The Veterinary Companion Animal Surveillance System (VetCompass) investigates the range and frequency of companion animal health problems by using data stored in individual computerised veterinary practice management systems.
Turning research into action
Our breed health and conservation plans (BHCPs) are an ongoing research project that identifies the health issues for each breed and provides an action plan on how to improve health. The more extreme brachycephalic breeds were some of the first to participate in this project and many already have a completed BHCP report, which includes an action plan agreed by breed club representatives to ensure that breeders are supported in tackling health problems and achieving positive health goals. Through this process we have identified some knowledge gaps and are investigating the possibility of supporting research to answer these questions.
Advising puppy buyers
Informing breeders
Our free online health resources, such as
Health Test Results Finder
and our
inbreeding calculators
, allow breeders to select dogs that will produce the healthiest puppies possible. and have the best impact on long term genetic diversity and health of the breed. Our team of scientists continually analyse pedigree and health data to produce new resources and information that will help breeders to breed  the healthiest puppies possible.
Reviewing breed standards
The
Breed Standards
, which describe a breed's ideal characteristics, temperament and physical features, were reviewed in 2009, with the input of veterinarians, to make it absolutely clear that physical exaggerations that are in any way to the detriment of health are not acceptable. The Kennel Club's Breed Standards and Conformation sub-group, which consists of vets, breed experts and scientists, will consider scientific evidence, such as the findings from the University of Cambridge research, in any review of the Breed Standards for Brachycephalic breeds.
Supporting dog show judges
We raise awareness of brachycephalic health to dog show judges through training days and our online resource, Breed Watch. Breed Watch helps judges reward healthy dogs by alerting them to, and monitoring, features that may suggest, or lead to, health concerns. We also have vet checks at championship dog shows for all breeds identified as having health problems related to exaggerated features.
Guiding dog show judges
Our Breed Watch Illustrated Guide is a booklet designed to help dog show judges. it highlights and explains how exaggerated physical features (such as excessive wrinkles or narrow nostrils) can affect a dog and lead to welfare concerns.
Working with others - the Brachycephalic working group
The Kennel Club lead a brachycephalic breeds working group made up of representatives from breed clubs, academic bodies, veterinary associations and animal welfare organisations. The group recently outlined an approach on how to improve brachycephalic dog health and also issued an open letter urging UK companies to stop using brachycephalic dog breeds in advertising and marketing campaigns.
Want to know more about brachycephalic health and what's being done?
The Kennel Club has hosted a unique webcast to discuss brachycephalic health and what can be done collaboratively to ensure a healthier future for dogs. Chaired by Kennel Club Chairman, Tony Allcock OBE, the webcast panel comprised Dr Jane Ladlow, European and Royal College Specialist in Small Animal Surgery and leading BOAS researcher; Bill Lambert, Head of Health and Welfare at the Kennel Club; and Charlotte McNamara, Health and Welfare Development Manager at the Kennel Club.

The panel discussed brachycephalic health, approaches across Europe, the need for a collaborative, evidence-based approach, including how the Respiratory Function Grading Scheme can help protect and improve the health of brachycephalic dogs now and in the future, and the importance of data collection and ongoing research into the complex Brachycephalic Obstructive Airways Syndrome (BOAS).

How can you help?