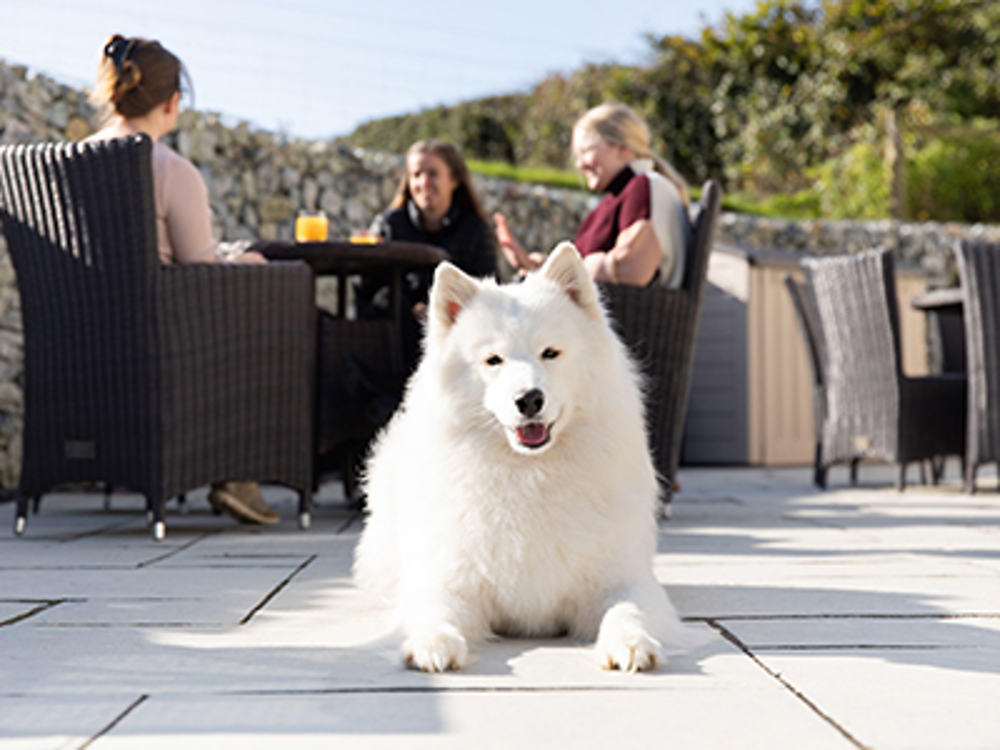 As cafes and pubs begin to re-open, having your dog come along with you too can be fun and a good opportunity to socialise – for both of you! It's important that you plan when visiting dog-friendly places so you know what to expect.
Planning ahead
If you're planning a pitstop during a walk plan ahead and make sure it's dog-friendly - pubs and cafes often include this information on their website and through physical signage. Remember that places can get busy, so consider whether your dog would be comfortable with this. It's also worth checking if there are any areas your dog shouldn't enter into or if there are any other rules set out by the establishment for dogs and owners. 
It's likely that your dog will need to be on a lead inside and it's worth bringing along water and a bowl, although many dog-friendly places provide these. As always, don't forget the poo bags, treats or toys!
Dog-friendly places - noticing your dog's mood
Keep a keen eye on your dog and make sure they aren't feeling anxious or overwhelmed, and that they have everything they need. If it's warm and you're outdoors, make sure there's a shady spot for your dog and that they aren't overheating.
Dog-friendly days out
With Covid-19 restrictions easing and more destinations opening for their busy summer period, there are many options for dog-friendly days out across the country. Taking your dog on a day out can be a fun adventure for you both and a good opportunity to let your dog explore the world whilst getting its daily exercise. English Heritage have a range of travel guides for their dog friendly properties and a list of their best dog-friendly days out which you may wish to use.
Make sure you know and follow any specific rules wherever you go, such as whether your dog needs to be on the lead in certain areas. You may need to take extra precautions – for example, around wildlife or if livestock are present – so be sure to check out our walking advice.
For guidance on getting to your destination and preparing for a day out with your dog, please see our travelling advice page.