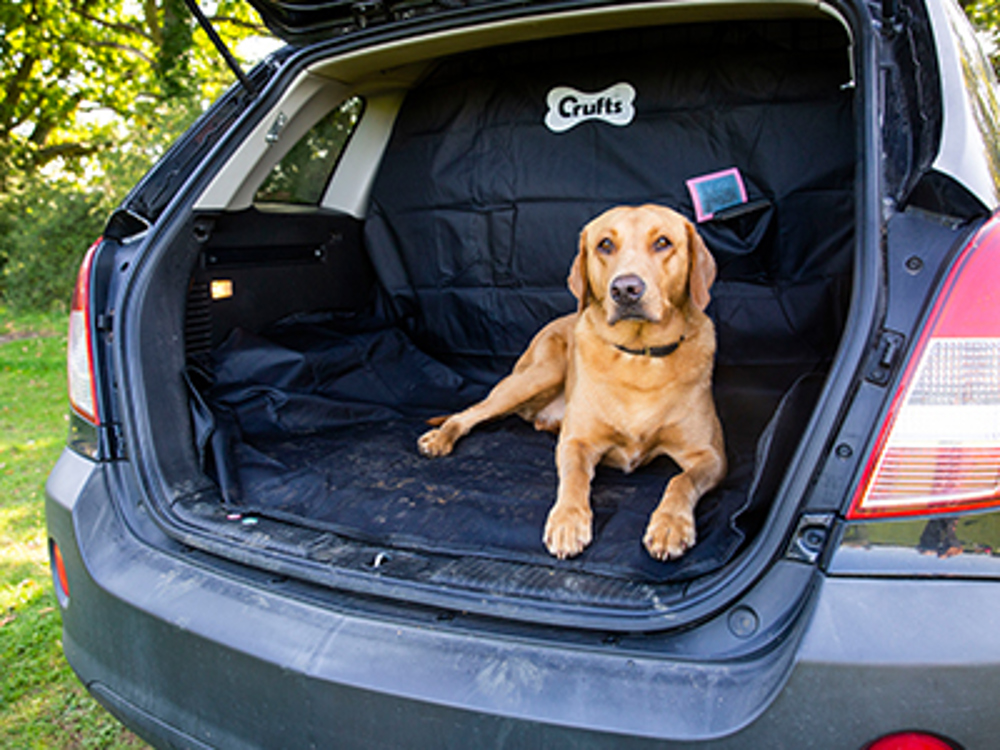 As lockdown begins to ease and we can travel further afield with our four-legged friends, it's important to be prepared. From safely travelling in the car with your dog, to navigating public transport, see below for our top travelling tips.
Things to remember before you leave for your walk
Ensure your dog's microchip details are up-to-date (check your chip on the Petlog database) and that they're wearing a collar that has your address and name on it, or on an ID tag – remember these are legal requirements. Purchase your Kennel Club ID tag
Check that your pet insurance is up-to-date in case of any emergencies
Ensure your dog's flea and tick treatments are up-to-date
Check the weather before you go and avoid going for walks in extreme weathers. Dogs are more prone to heat stroke than we are, so on really hot days only take your dog out in the early morning or in the evening
You know your dog best; make sure your walk isn't too long for them
If your dog has not had a lot of exercise recently, gradually increase the distance of your walks over time so that your dog's fitness levels can adjust
If walking in the countryside, plan a route and make sure you're walking in areas where dogs are allowed
If you're planning any stops along your walk, or on the way there, such as a pub or a café, check that they allow dogs first
What to take with you
Don't forget to take their lead with you, and even consider taking a spare
Ensure that you have enough water for your dog and something for them to drink out from
Bring along any food or treats you think they may need
Make sure you're carrying dog poo bags at all times on your walk – and make sure to always bring spares
If rain is forecast, take a towel along with you to dry your dog off
Take your mobile phone with you in case of any emergencies and ensure that you have your vet's number to hand
If walking in the evening, ensure that your dog can be seen with reflective equipment or equipment that lights up, and always carry a torch
Travelling by car
The Highway Code states that drivers need to 'make sure dogs and other animals are suitably restrained' in a car, so always make sure your dog is secure and safe by using a pet seatbelt or travel crate or carrier, and check your insurance before travelling. To make a car journey more comfortable for your dog, you can:
Get them used to a car and what behaviour you expect from puppyhood – introduce them to a stationary car and slowly build up to journeys. Place something that smells of you in with them to help them feel secure, comfortable and reassured. This will help to develop positive associations with car travel
Take regular breaks so that they can go to the toilet, have a drink and exercise. Plan these before you head out in the car with your dog and make sure your pitstops are dog-friendly if you're planning to go inside
Keep them cool – either by having a window slightly open or with air conditioning
Don't travel just after feeding them, give them time to digest or wait until you've finished the car journey
Always have water and a bowl in the car when you travel
Reconsider your journey if it's very hot – read more information about travelling with your dog during hot weather below
Never leave your dog alone in a car.
Travelling by car on warm days
When the weather gets warmer, cars – both parked and on the road – can heat up very quickly. Stationary cars will get much hotter than outside, and dogs, who regulate their body temperature by panting, can quickly and easily overheat.

If dogs are left alone on a hot day in a car there can be fatal consequences. They can develop heatstroke, become dehydrated and even die. So please never leave your dog in a car on a hot or even warm day, even if your car is parked in the shade or you leave a window open. 
If you do need to travel with your dog in the car or by public transport on a warm day, follow our advice and find out more about the signs of overheating in dogs on our warm weather dangers page.
Navigating public transport
If you're planning to travel with your dog on public transport, it's important to remember that it can get busy. Consider whether your dog would be comfortable if it's noisy, crowded and there isn't much space, and travel at quieter times. Not all modes of public transport allow dogs, or there can be particular rules, so check with the route operator before you travel and gradually get your dog used to travelling.
Avoid using escalators if you can and take the stairs or a lift instead. If you must use an escalator, you'll need to carry your dog. If you reach a ticket barrier, you can use the accessible ticket barrier so that you have more space and time.
Make sure you have water and something for your dog to drink from, as well as treats and poo bags – just in case! Bear in mind that not everyone loves dogs and you're responsible for keeping your dog under control at all times. Make sure they know basic commands, like sitting or lying down, so your journey is safe and calm.
Be sure to keep a watchful eye on your dog and make sure they aren't feeling anxious or overwhelmed.
After your walk
Always check your dog for ticks after a walk
Alabama rot is a potentially deadly disease that is possibly linked to wet muddy conditions, so make sure to always wash your dog after wet walks in muddy areas