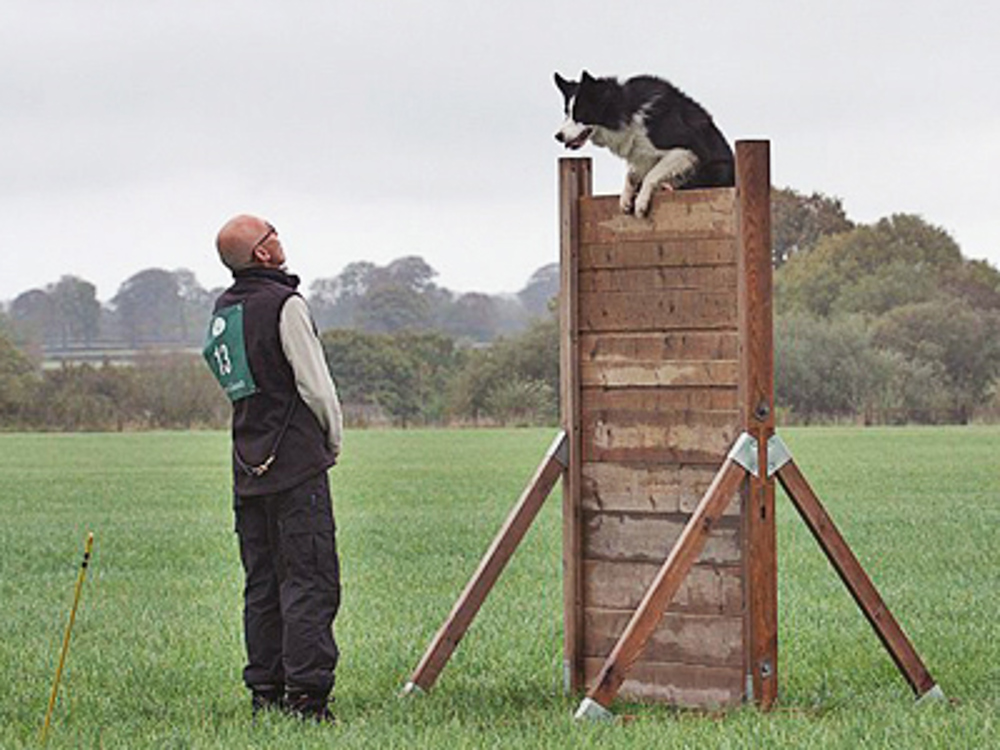 Working trials date back to 1924 when the first event was held by the Associated Sheep, Police and Army Dog Society (ASPADS). In May 1927, the first championship working trial to be recognised by The Kennel Club was held by the Alsatian League and Club of Great Britain at Castle Bromwich.
The format of working trials was changed in 1961 and since then very minor amendments have been made to the discipline, which bears testimony to the standard that was set all those years ago.
Although working trials tests were originally based on training for police work, for today's participants working trials are purely a competitive sport. They are physically demanding, and both dog and owner need to be healthy and fit.
What are working trials?

Originally introduced for police dogs, working trials can be said to be "CSI for dogs". Working trials are physically demanding, but also great fun and extremely rewarding.

Dogs compete in ascending levels called stakes. From the lowest stake, companion dog (CD), through utility dog (UD) and working dog (WD) to tracking dog (TD) and patrol dog (PD) at the very top.

Exercises are divided into three sections: nosework, agility and control. They comprise various tests, including heelwork, searching for hidden items, long jump and scaling a wall.
What do I need to know to take part?

The formal requirements for competing at a Kennel Club licensed working trial are quite simple:

Your dog must be registered with The Kennel Club, either on the Breed Register or on the Activity Register
Your dog must be 18 months old or over on the closing date for entries to the trial
You must complete an entry form and send it in before the trial's closing date for entries (generally six weeks or more before the date of the trial)
You should be familiar with The Kennel Club's Working Trial and Bloodhound Trials I Regulations beforehand
When can I start training my dog?

Preparing your dog to compete successfully will take a little longer than the formal requirements. It is essential that your dog is fully socialised and that you have effective control at all times, especially as your dog will be competing off lead. For safety's sake, it is recommended that dogs do not start training on equipment until they are at least one year old.

As a puppy you could play hide and seek from the age of four months just to get used to training.
What types of dog can take part?

All dogs can do working trials. Your dog does not have to be a pedigree.
How can I find a training club?

Training for working trials takes place at societies and clubs across the country, as well as at a number of training weekends and courses, and there is a friendly social scene to be enjoyed.

Preparing your dog to be able to compete successfully will require considerable time and training.

Experience in other activities such as obedience and agility will be of benefit, both in establishing a basic rapport between you and your dog, and in preparing for particular exercises like heelwork, retrieve and stay. It is essential that your dog is fully socialised and that you have effective control at all times, especially as your dog will be competing off lead.

Some elements such as 'search' and 'nosework' need specific preparation and training for working trials, and you may find it useful to attend one or two of the training weekends or longer courses available as well as regular training with a club to guide you in your preparations for competing in a trial. You might also find it helpful to attend a trial as a spectator where you can view the tests first hand and chat to competitors - an invaluable source of informal information about the sport.

Working trials require perseverance and some hard work, but at all levels they are a rewarding and fulfilling activity for handlers and their dogs alike.
What types of tests are there?

1. Nosework

Nosework comprises search and track exercises. The dog follows a track laid by a 'tracklayer' (who is a stranger to the dog) walking a set pattern designed by the judge and identical for each dog. The track is approximately half a mile long and laid on grassland, arable fields or heathland with each competitor working on similar terrain to others in the stake.

As the dog follows the track it has to seek out and recover articles placed along the track by the tracklayer. The track is laid at different times, before the dog work begins, depending on the level of the competition. The other component of nosework is 'search' where the dog has to search for and retrieve articles placed in a marked area.

2. Agility

To test its agility, the dog must clear three obstacles - a three-foot hurdle, a six-foot-high wooden scale and a nine-foot long jump. Two attempts may be permitted for each obstacle.

3. Control

There are various exercises in this section which are detailed below:

Heelwork: the dog must walk with its shoulder reasonably close to the handler while the handler navigates their way around people and obstacles at different speeds
Sendaway:

 

involves sending the dog away across a minimum distance of 50 yards, the handler will then redirect the dog through a series of commands
Retrieving a dumbbell: the dog must retrieve a dumbbell which has been thrown by the handler
Down stay: the dog must stay in the down position while the handler is out of sight for a period of time
Steadiness to gunshot: the dog is tested on its reactions to gunshot. The dog will be penalised if it shows any signs of fear or aggression
Speak: the dog is ordered to 'speak' and cease 'speaking' on command by the handler with a minimum of commands and/or signals
My dog is blind. Can I still compete?

It is not advised that blind dogs compete in Kennel Club activities as it is not in their best interests. This specifically relates to dogs that have no sight whatsoever and does not apply to dogs with partial vision. Owners are reminded to consider the welfare of their dogs at all times.
My dog is docked. Can I still compete?

The term 'docked' includes dogs which have had their tails shortened for medical reasons after the relevant dates - these count as having been docked and therefore such dogs are not allowed to be shown/compete at events where the public are admitted on payment of a fee. Please see the Defra website for further information.
Next step - attending your first working trial