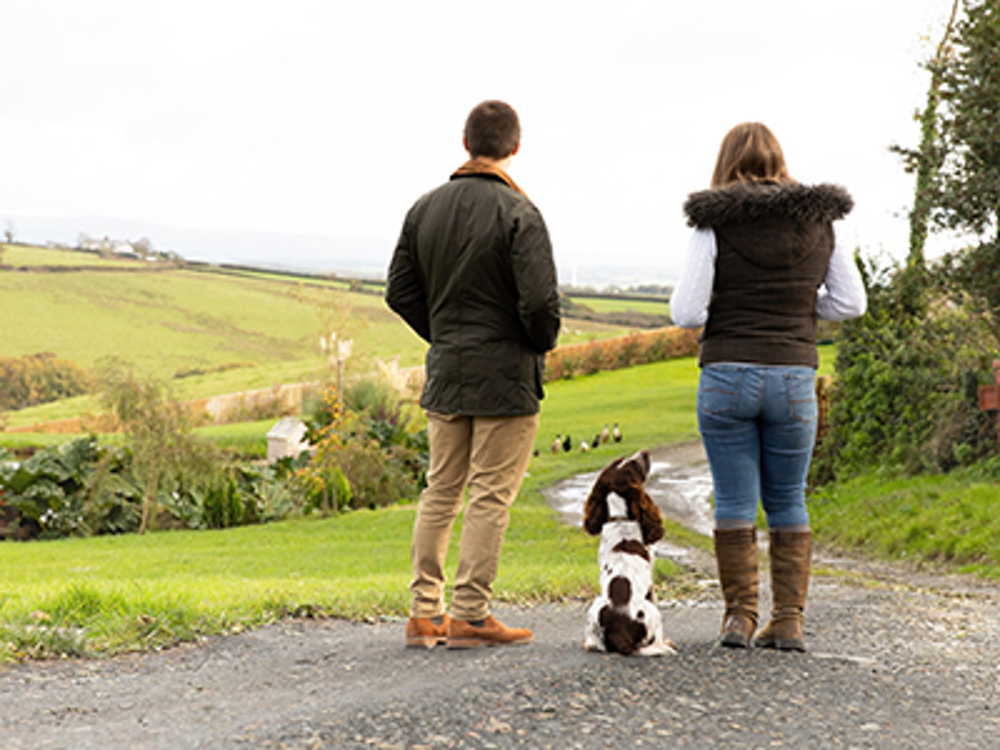 Every dog owner has a duty of care to make sure that their dog gets at least one walk every day. Dog walking is something that the whole family can enjoy and, better still, it costs nothing at all – only your time.

Before going anywhere with your puppy or dog, it's important that you understand what it means to be a responsible owner – whether it's ensuring your puppy is well-socialised before heading out and about after pandemic restrictions, to preparing it for the outside world and making sure you know how to deal with its poo when out walking.
Agria Pet Insurance Dog Walk 2022
We're happy to be supporting the Agria Pet Insurance Dog Walk again in 2022. Take your dog and your friends and family for a great day out at the beautiful Waddesdon Manor - all in aid of some amazing charities!
Find out more on their website.
Frequently asked questions about walking your dog
How long should I walk my dog for?

The government recommends that we get at least 30 minutes of exercise each day and this is something that everybody can achieve - and go beyond - on a daily dog walk. The amount of exercise your dog needs will vary according to its breed, but every dog should have at least one walk a day, often two.

Refer to our Breeds A to Z to find out more about the exercise needs of your chosen breed.
How good is walking for me and my dog?

Although dog walking is not a high-intensity workout, it is great for cardiovascular development, strengthening of muscles and bones and lowering blood pressure.
Hints and tips: What do I need to remember?

Choose the right collar and lead from the offset – they need to be comfortable, well-fitted and secure
Put in the groundwork, introducing the lead with rewards and praise, and ensuring your dog is happy and comfortable on a lead
Make sure your dog has an ID tag stating your contact details – this is a legal requirement. You can purchase tags and have them engraved in our online shop
Be patient and consistent when out with your puppy on walks – remember that they are still learning!
Make sure your puppy is trained to return to you when you call their name
Always take poo bags with you and dispose of your dog's mess safely and cleanly
Know where you're allowed to walk with your dog and check that any pitstops are dog-friendly
Take any food, treats, water and toys that you will need with you
Don't exercise your puppy on a full stomach as this may contribute to bloat
What should I do if I lose my dog?

In the first instance you need to report your dog as missing to your local dog warden. If your dog has been picked up then it is likely to have ended up there
Notify your microchip database. If someone tries to update the details, they will notify you that this is happening
Contact websites such as Dog Lost - they can help spread the word
Social media is great at spreading the word. Be sure to attach a photo of your dog and provide the relevant details. Many dogs have been reunited with their owners through social platforms
Next, contact your local vets in the area - they too can receive dogs which have strayed away from their owners
Local rehoming centres can also receive lost dogs
Puppies vs dogs

The importance of play

For puppies, informal natural play is one of the most important forms of exercises, helping them to build up muscles, strengthen joints and learn how to be social and interact with others. Puppies tend to self-limit play, and will sleep a lot, but it's important that they get that the opportunity to play and rest when they need to.

Formal exercise

Puppies need less 'formal' exercise than fully grown dogs. Taking them for long walks while they're young can overtire them. You'll know your dog best, and the amount of exercise a dog can manage will vary between breeds and dogs, but a good rule of thumb is a ratio of five minutes of formal exercise per month of age (up to twice a day) until the puppy is fully grown i.e., 15 minutes (up to twice a day) when three months old, 20 minutes when four months old and so on. As they become older, they'll be able to cope with larger amounts of exercise.

Why exercise is important

Puppies and dogs can become frustrated and bored if they don't get enough exercise, so it's important that they go out for exercise every day. Formal exercise away from their normal environment gives them different environments to explore and is a great way to provide them with mental stimulation. Time and play spent in your garden should be encouraged, but it's no substitute for going out for a walk and exploring new environments or socialising with other dogs. Make sure your puppy is trained to return to you when you call their name to help keep them safe and secure when you need to.

Risks to joints

Some types of exercise can increase a puppy's risk of developing certain joint problems that can be permanent, painful and debilitating. To reduce this risk, it's important that puppies:

Avoid high impact exercise, such as jumping from heights or being taught to jump
Avoid exercise that involves sharp sudden turns, such as chasing a ball. Never throw sticks for any dogs as they can splinter, wound or impale a dog when picked up in their mouth
Avoid using the stairs until at least 12 weeks old, but this may be longer for some larger breeds
Stay a healthy weight, as overweight puppies have an increased risk of joint disease as they mature

It's also important to never exercise your puppy on a full stomach, as this can contribute to a life-threatening health issue known as bloat.

If in doubt, your breeder, breed club or vet will also be able to offer support and advice about the best ways to exercise your puppy.
Training and socialisation

It is important that all dogs, but especially puppies, are taught social skills that enable them to be confident, happy and safe in a range of environments and situations. From having household visitors to encountering other dogs, ensuring your puppy is equipped with key life skills will prevent difficult and sometimes concerning behavioural problems.

With Covid-related restrictions beginning to ease, you should think about enrolling your dog in training classes. See our dog training page for more information, including games you can try at home and a list of The Kennel Club's accredited instructors – some of whom may be holding virtual sessions in which you can participate from home. 
Being responsible

All owners should clean up after their dog. This keeps people and animals safe, as well as keeping our streets, countryside, and beaches pleasant and clean. Always take a supply of bags with you whenever you leave the house and pick up any mess straight away, sealing the bag and placing the waste in a bin. The bin doesn't have to be a dog waste bin: a normal litter bin is suitable as well. If there are no bins in the area, then take the bag home and dispose of it in your own bin.

Don't throw the bag over fences, hang it on a tree or leave the bag on the ground. It is worth making a note of where the public bins are on your route so that you can dispose of the waste responsibly. If you notice that there aren't any bins in your local area, please contact your local council to let them know. More information about this issue and being a responsible dog owner is available via our Canine Code.
The Dog Walking Code

For those not located in England, there is specific guidance for responsible dog walking in your nation. National guidance should always be followed when you are out walking with your dog, and will allow you to enjoy your visit to the countryside whilst educating you on how to act responsibly to preserve the environment for others. Guidance for each nation can be found below:
It is important that you are aware of the Countryside Code to keep your pet safe, protect the environment and show that you are a responsible dog owner.
The Countryside Code
Control your dog so that it does not scare or disturb farm animals or wildlife
When using the new access rights over open country and common land, you must keep your dog on a short lead between 1 March and 31 July - and all year round near farm animals. You may not be able to take your dog at all on some areas or at some times. Please follow any official signs
You do not have to put your dog on a lead on public paths, as long as they are under close control. But as a general rule, keep your dog on a lead if you cannot rely on their obedience. By law, farmers are entitled to destroy a dog that injures or worries their animals
If a farm animal chases you and your dog, it is safer to let your dog off the lead - don't risk getting hurt by trying to protect them
Take particular care that your dog doesn't scare sheep and lambs, or wander where it might disturb birds that nest on the ground and other wildlife
Across the UK, 7

 in 10 livestock attacks are caused by unaccompanied dogs, e.g. dogs that have escaped your garden. Make sure your garden is escape-proof
You can
read more about these rules
, or if you have a particular query, please call 0845 100 3298.
Places to walk your dogs
Below is a selection of resources which provide suggested walks that both you and your dog can enjoy: