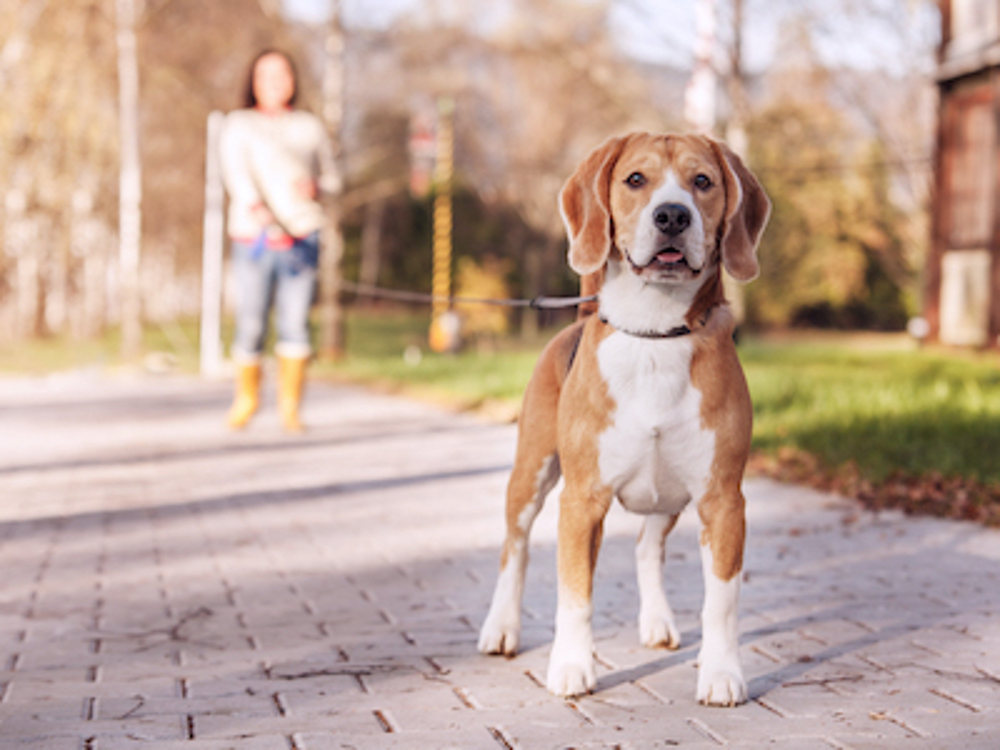 All dogs should be taught how to socially distance – whether humans are doing so or not. Dogs are not always welcome social contacts. Those who might not welcome your dog include people in general, but especially children, elderly people, those who are pregnant or with young babies, those with mental health problems, horse riders, dogs, puppies, those who have have been frightened in the past (dogs or humans) or people from various cultures or with religious beliefs.
Management tactics
Avoid walking in areas where lots of other people go
Avoid busy walking times
Consider keeping your dog on a lead or long line
Give people (with or without dogs) a wide berth
Change direction or wait until there is plenty of room to pass others
Don't let other people pet your dog and don't pet theirs
Don't use public transport
Avoid touching surfaces such as gates and benches
If you are trying to socially distance in a garden, home, café, beer garden etc., choose a seat against a barrier if you can. This way you can see anything approaching and other people don't need to get past you and your dog. Keep your dog on a lead and give them a blanket and something to chew on to keep them occupied
Carry hand sanitiser and use regularly
Wipe your dog down with pet-friendly wipes once home
Clean your dog's collar, harness, leads, lines etc. after use
Training tips
Don't expect your dog to be a mind reader, your dog will need reminding of what training means in the real world, especially if you have had a break from it
Arm yourself with lots of high-value treats and toys to keep your dog motivated to be with you
Make sure your outing is fun – add games and scent work to your walk
The most important exercises to practise include: walk on a loose lead, control on a long line, commands like 'come away'/'leave', 'come back', 'watch'/'pay attention', and a rock-solid static position that suits your dog ('sit', 'down' or 'stand'). Add 'settle' for if or when you need to socially distance with your dog in a café or beer garden etc.
Work on all of these basic control techniques at home, in the garden and while out
Add distractions to all of your exercises at home so that you can work on them in a controlled environment
Remember how tempting the distraction could be while out – it could be a running cat, squirrel, dog, child. Improvise – e.g. if your dog has a good sit, can your dog still sit if you throw a fluffy toy past them? Introduce this level of distraction carefully, you want to tempt your dog a little without making them fail. Make sure you can stay in control by having your dog on a short lead and harness, and reminding them what they are supposed to be doing just before you introduce your distraction. Reward your dog highly for remaining with you and not following the distraction, even if they were a little tempted – it's the choice your dog makes in the end that is important
Once you venture out, start in quiet areas and keep up the training rather than just going into 'going for a walk' mode
Keep your walks interactive – going for a walk with your dog should be just that! So turn off your mobile phone and enter your dog's world. Enter into a hunt, create some games that you can play together and enjoy the whole experience together – you will both get lots out of it and neither will yearn to be sociable with anybody else!
Please note: there are many different ways to train your dog. This is just one method of teaching. If you are ever in doubt, please seek professional advice. 
For more information and advice, you can find training classes with The Kennel Club Good Citizen Dog Training scheme, browse our full list of The Kennel Club Accredited Instructors or find a dog training club near you.