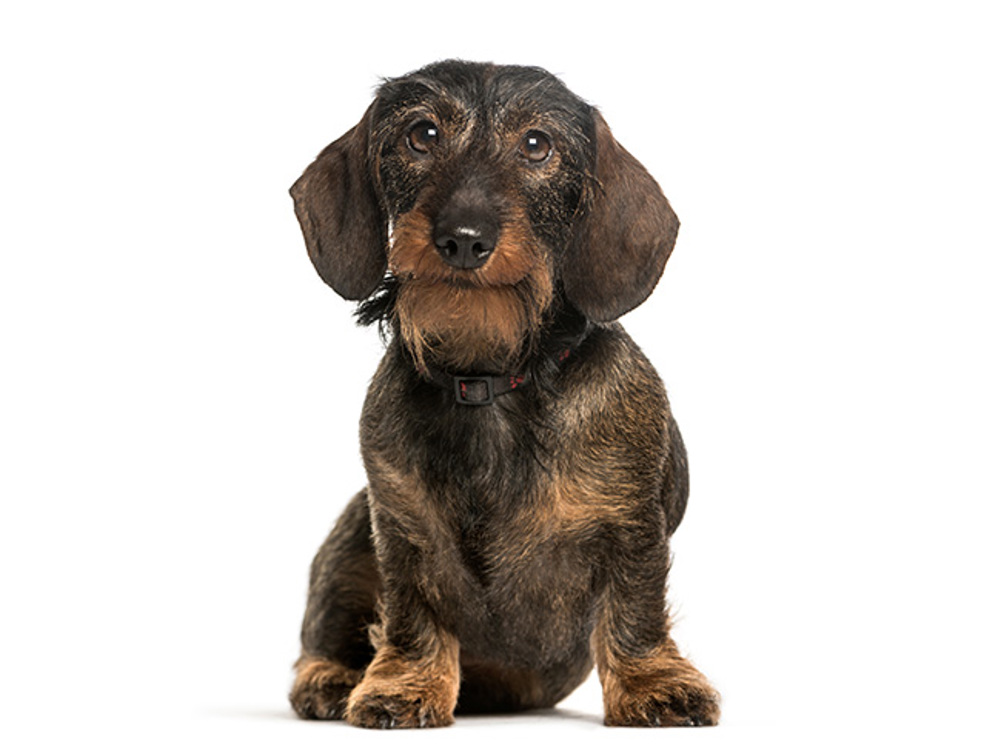 What is the scheme?
The Kennel Club IVDD Scheme for Dachshunds (all varieties) in partnership with Dachshund Health UK uses X-ray to detect the presence and severity of IVDD in all varieties of Dachshunds. The scheme assesses for spine calcifications and gives guidance to breeders on how to reduce the risk of producing puppies affected by intervertebral disc disease.
What is IVDD?
Intervertebral disc disease (IVDD) is a condition that is caused by a gradual deterioration of the shock absorbing parts of the spine, known as intervertebral discs. These discs are filled with a jelly-like substance and sit between the bones in the spine. Intervertebral discs help hold the spine together, give the back its flexibility and also protect the spine by cushioning any impact. As dogs get older these discs can degenerate and harden (calcify). In Dachshunds this can happen at a much earlier age compared to other breeds.  The calcification of these discs means they don't absorb shock as well and can lead to a slipped disc (disc herniation) and spinal cord compression. 
How is IVDD inherited?

A dog's risk of developing IVDD is controlled by a number of different genes and influenced by several environmental and lifestyle factors (e.g. diet, exercise or factors when in the womb before birth etc.). Each of the genes that help to make a dog's body may have different possible versions, or variants. Versions of some of a dog's genes increase the risk of IVDD, while others decrease the risk.

Each dog will have a mix of these 'good' and 'bad' versions of genes, making it very difficult to predict whether a dog will be affected. The impact made by one version of a gene might only be slight, but lots of genes having a small influence can have a combined additive effect.
Clinical signs of IVDD and treatment

IVDD is a serious and painful condition. Owners of affected dogs may see:

Signs of severe pain, such as yelping, moving cautiously or not wanting to move their head or neck
Incoordination of the limbs and paws
Frequent accidents in the house
Not being able to move their limbs

Some dogs affected with IVDD can be treated with medication and rest, while others may require invasive or life-changing surgery and long-term rehabilitation therapy, or sadly in severe cases, this devastating disease can lead to euthanasia.
How common is IVDD?

In 2018 the Dachshund breed council's

DachsLife surveys

found that, out of 1,173 Dachshunds that were over three years old, 21.1% were reported to have IVDD.

Some varieties of Dachshund appeared to be more prone to IVDD than others. Results from the survey were:


Miniature Smooth Haired Dachshunds - 29.9%
Smooth Haired Dachshunds - 16.8%
Miniature Wire Haired Dachshunds - 16.5%
Miniature Long Haired Dachshunds - 15.7%
Long Haired Dachshunds - 9.4%
Wire Haired Dachshunds - 8.6%
Getting your dog assessed
To have your dog assessed under the scheme you will need to:
Contact a participating centre and arrange for your dog to be X-rayed as part of The Kennel Club IVDD Scheme for Dachshunds (all varieties) in partnership with Dachshund Health UK
Before your dog's X-ray appointment you will need to register for the scheme and pay a £20 registration fee. Once you have registered you will be emailed a further information request form that you will need to complete
For the X-ray you will need to pay an assessment fee of £300. This can be made through your vet
Your dog's X-ray will be submitted by the participating centre to be reviewed by an expert scrutineer and graded appropriately
The result will be returned to you via an email from The Kennel Club, with details of any findings, including the total number of the calcifications and their location on the spine, if applicable. You can find information on what your grade means and breeding advice below.
Find a participating centre
Essentials of the IVDD scheme
How old does my dog have to be and how often should they be screened?

To be assessed under the scheme, your dog must be between 24 to 48 months of age at the time of the X-ray.

Your dog will only need to be screened once and the result will be valid for their entire lifetime.
What do I need to bring?

You will need to bring your dog's Kennel Club registration certificate and microchip identification with you to the participating centre. This will need to match the information provided at the time of IVDD scheme registration.
How much does it cost?

The total cost to have your dog assessed under the scheme is £320. This includes the £20 scheme registration/scoring fee and £300 x-ray fee.

To reward early adopters of the scheme, The Kennel Club and Dachshund Health UK are offering subsidies for a limited period (see next tab below).
Applying for The Kennel Club subsidy

To reward early adopters The Kennel Club is offering a £100 subsidy for all dogs that participate in the IVDD scheme for Dachshunds during 2021 and 2022. 

Apply for a subsidy by completing

an IVDD subsidy request form

.

Owners are required to pay the full screening cost at the participating centre before applying for the subsidy. To receive The Kennel Club subsidy, you will need to complete the subsidy request form once your dog's radiograph has been submitted for grading by the participating centre. We will then be in contact with you regarding your application.

Other subsidies may also be available to owners from

Dachshund Health UK

.
If my dog was assessed before 2021 can the result be published?

Yes - to reward those who initially participated in the IVDD scheme subsidised by Dachshund Health UK, we will be accepting X-rays for submission if scored by Dr Anu Lappalainen between 2016–2020. If owners submit all relevant files and information to The Kennel Club, the grade can be verified and recorded on the dog's record.

For more information please contact 

Health (The Kennel Club)

 
What happens if my radiographs are rejected?

If your set of radiographs are found not to comply with the scheme's protocol, they will be rejected for screening. In these instances, we will notify you, and the participating centre, and will require a subsequent set of radiographs to complete the submission.

We will not charge an additional screening fee.
What happens with my dog's grade?

Following the launch of The Kennel Club IVDD Scheme for Dachshunds (All Varieties), we will collate all results from screening at The Kennel Club. Results will be available to the Dachshund Breed Council for publication and for breed records and public information. Our intention is for results to also appear on The Kennel Club Health Test Results Finder and in the Breed Record Supplement. However, due to the expected development schedule of The Kennel Club's website and online customer service management system, we do not anticipate the ability to display results online until the middle of 2022. In the meantime, results will be available via the health team and The Kennel Club remains committed to sharing results with the breed for health information and research purposes.
Can I appeal my dog's grade?
What does my dog's grade mean?
Your dog will receive a grade ranging from 0 to 3, depending on the number of calcifications present in the spine. The higher the grade the higher the number of calcifications found and the more at risk a dog is for developing clinical signs and passing the disease on to any offspring.
Grade 0: your dog has no calcifications
Grade 1: one to two calcifications have been observed
Grade 2: three to four calcifications have been observed
Grade 3: five or more calcifications have been observed
Breeding advice
The way that IVDD is inherited is not fully understood and is not always entirely predictable but has been shown to be partly influenced by genetics. Using the guidelines below can help you reduce the chances of breeding puppies affected by IVDD. However, even if used responsibly, this guidance cannot guarantee that a puppy from grade 0 parents will be free of IVDD. Breeding appropriately from screened dogs will reduce the risk of producing affected puppies. Please use the following table to note the outcome of mating a male and female with a known IVDD calcification grade.
Green: The lowest risk of breeding dogs affected by IVDD.

Amber: A higher risk of producing puppies that may grow up to be affected by IVDD.

Red: A mating that has a high risk of producing puppies that may grow up to be affected by IVDD. These matings are not recommended. IVDD can have a serious impact on a dog's health and welfare, so a mating which has a high risk of producing affected puppies should never knowingly be carried out.
Making balanced breeding decisions
As well as considering the implications of a dog's IVDD grade, there are other equally important factors to consider when deciding whether two dogs should be mated together, such as temperament, genetic diversity (avoiding inbreeding), conformation, other available health test results, the general health of the dogs etc. Your breeding decisions should always be well-balanced and take into consideration the qualities and compatibility of both the sire and dam that you are considering.
Participating centres
As lockdown restrictions across the UK ease, veterinary practices are beginning to transition towards providing a more normal range of services. Please be aware, each practice is making this transition at their own pace, based on their available resources and the extent to which they can adapt their workplace or working practices in accordance with national and devolved legislation and local guidance. We ask all owners and breeders to respect their vets' clinical and professional judgement and be patient during this time.'
Scotland
Wales

| | |
| --- | --- |
| Centre: | Carmarthen Veterinary Centre and Hospital |
| Location: | Llysonnen Road, Llanllwch, Carmarthen, SA31 3SA |
| Contact: | 01267 220404 |
North East

| | |
| --- | --- |
| Centre: | None yet available |
| Location: |   |
| Contact: |   |
North West

| | |
| --- | --- |
| Centre: | Chester Gates Veterinary Specialists |
| Location: | Units E&F, Telford Court, Gates Lane, Chester gates, Chester, CH1 6LT |
| Contact: | 01244 853823 |
Midlands

| | |
| --- | --- |
| Centre: | Dovecote Veterinary Hospital |
| Location: | 5 Delven Lane, Castle Donington, Derby, DE74 2LJ |
| Contact: | 01332 810395 |
East of England

| | |
| --- | --- |
| Centre: | University of Cambridge Veterinary School |
| Location: | Queen's Veterinary School, Madingley Road, Cambridge,CB3 0ES |
| Contact: | 01223 337621 |
|   |   |
| Centre: | Grove Veterinary Hospital |
| Location: | Grove House, Holt Road, Fakenham, Norfolk, NR21 8JG |
| Contact: | 01328 862137 |
London & South East

| | |
| --- | --- |
| Centre: | Barton Veterinary Hospital |
| Location: | 34 New Dover Road, Canterbury, Kent, CT1 3BH |
| Contact: | 01227 765522 |
|   |   |
| Centre: | Beaumont Veterinary Hospital |
| Location: | 172 Oxford Road, Kidlington, Oxon, OX5 1EA |
| Contact: | 01865 373397 |
|   |   |
| Centre: | Lumbry Park Veterinary Specialists |
| Location: | Selborne Road, Alton, Hampshire, GU34 3HL |
| Contact: | 01420 481777 |
|   |   |
South West

| | |
| --- | --- |
| Centre: | Rosmullion Veterinary Hospital |
| Location: | 66 Melvill Road, Falmouth, Cornwall, TR11 4DD |
| Contact: | 01326 313991 |
Can't find a centre local to you?

We're sorry you can't find a participating centre in your area. We're currently recruiting additional centres and would love to hear from you. If you have a veterinary practice local to you that has on-site diagnostic imaging facilities, please email their details to us at

Health (The Kennel Club)

and we can invite them to apply to be a participating centre.
Want to become a participating centre for the scheme?

If you're interested in participating in the scheme and have on-site diagnostic imaging facilities, we'd love to hear from you. Please email

Health (The Kennel Club)

for more information on our application process.
Could you help us with research?
If you are interested in having your dog assessed under The Kennel Club IVDD scheme for Dachshunds (all varieties), the University of Cambridge would also like to invite you to participate in a research project, which would require you to allow a CT scan (A computerised tomography scan) to be performed on your dog's spine.
They are hoping to be able to collect CT scan images of as many Dachshunds undergoing X-rays for the scheme as possible. They plan to analyse the CT scans (these will not be used for scoring/grading purposes), in order to assess the increased sensitivity of CT scans for identifying calcified discs. They would also like to follow your dog over its lifetime in order to see if there is a connection between what they see on CT scans and what happens to your dog in terms of IVDD. This way we will be able to build up a better picture of what early disc calcification means for the chances of future IVDD and ultimately may be able to formulate better lifestyle and breeding guidelines to further reduce the incidence of this disease.
To participate in this research project, you will need to visit the University of Cambridge Veterinary School
The CT scans will be at no additional cost to you as the cost is being subsidised by the veterinary practices involved and The Kennel Club Charitable Trust
CT scan images will all be sent to the research team in Cambridge for counting of visibly calcified discs, and the results will be logged on a spreadsheet alongside your dog's identification, age, sex, body weight and body condition score; only the researchers at Cambridge will have access to this specific information
For more information about participating in this vital research project please contact 
Health (The Kennel Club)