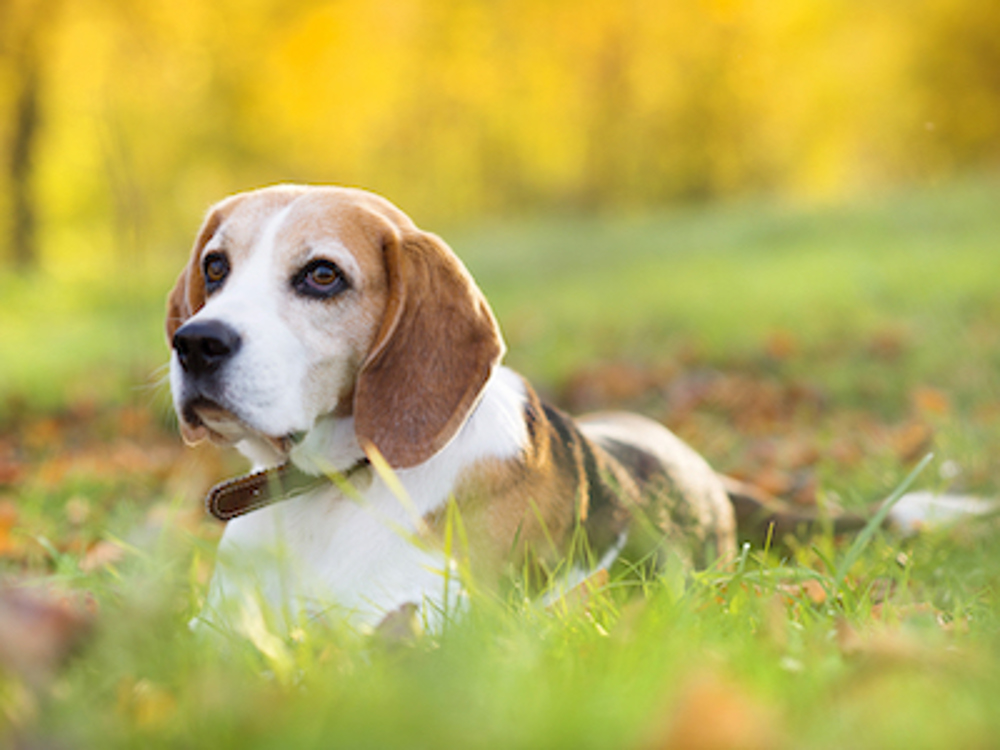 Whether you're concerned about how to care for your dog during the pandemic, or if you're worried about your dog catching or transmitting the virus, we've got the latest advice and information here to help you.
Living with dogs during the Covid-19 pandemic
Questions and answers to help you
Where can I find the latest government guidance?
What precautions should I take with my dog?

If you are feeling well but staying at home, take extra hygiene precautions:

Avoid your dog licking your face
Bathe your dog often, but be careful to not dry out their skin
Regularly wash your hands with soap and water after touching them and preparing their food

If you have tested positive for the virus or are symptomatic, limit physical contact with your dog – as hard as it may be.
I'm due to collect my new puppy. What should I do?

Please check guidance in your nation/area and risk assess the individual situation, but new owners may now be able to collect their puppy from their breeder – depending on restrictions in their areas - as long as social distance and hygiene requirements are maintained, and no one involved is showing symptoms or has been told to isolate due to Covid-19. Depending on where you are in the UK and what restrictions are in place in both where you and your puppy's breeder lives, collecting your puppy may need to take place outside.

The Welsh and Scottish Governments have introduced legislation that restricts travel between Wales and the rest of the UK and between Scotland and the rest of the UK. If your journey involves entering or exiting Wales or Scotland please check that the journey is compliant with the relevant legislation.

Read government information about buying and adopting pets for those based in England.
Can I walk my dog?

Make sure to keep up to date with the relevant government guidance in your nation and continually assess your own situation according to the restrictions and advice.

When taking your dog for a walk there may be differing advice between national governments and for local areas as to whether you should stay local and how far away you must stay away from others. Please check the relevant guidance according to your location via the links at the top of this page.

Whilst on walks, ensure that you socially distanced from anyone not in your household and wash your hands thoroughly with soap and water for 20 seconds as soon as you return home from your dog walk.

If you are self-isolating and/or symptomatic, follow the relevant government advice and do not leave your home for any reason, including walking your dog. If you have a garden you can let your dog out to go to the toilet, exercise and play. If you are self-isolating and do not have a garden, you can ask a friend, relative or professional to exercise your dog for you, advice on how to do this safely is below.
Can someone walk my dog for me if I can't, e.g. if I am self-isolating or if I'm a key worker?

Please consult local restrictions and the relevant national guidance, and refer to these when assessing your own situation. You may be able to ask a friend or relative to take your dog out for you if you are self-isolating, vulnerable, or elderly. You must let them know in advance if you are self-isolating and follow the government's social distancing and protection measures – such as washing hands thoroughly and wearing a mask – when handing over your dog. The Kennel Club and other animal welfare experts have produced further short-term emergency advice on how to walk someone else's dog safely.

There's also advice available from the government about how to safely help others during the pandemic.
What precautions should I take with other people's dogs?

We recommend avoiding touching dogs that live outside of your household if possible. If you do pet a stranger's dog, remember to clean your hands with an alcohol-based hand gel afterwards or to wash your hands thoroughly with soap and water for 20 seconds.
I am currently on my own. Who can I look for help with my dog at this time?

Depending on restrictions, a friend or relative may be able to assist you with caring for your dog, but let them know in advance if you are self-isolating and follow government guidelines when handing over your dog, maintaining social distancing measures. Always wash your hands before and after handling your dog and preparing their food, and ask whoever cares for your dog to do so as well.

There is also support available from various online local community groups and charities, including The Cinnamon Trust – a specialist national charity that helps the elderly to look after their much-loved and much-needed companion animals. They have a network of over 17,000 volunteers all over the UK who help pet owners provide vital loving care for their pets and help keep them together – whether this is through walking dogs or fostering them when their owners are in hospital. During this time of uncertainty, volunteers are on hand to help the elderly or vulnerable that might be in self-isolation or feeling poorly and can't get out.

Read further government guidelines on how to safely help others during the pandemic.
Can I take my dog to the vets?

If your pet needs vet care during this period, call your vet in the first instance as they will be able to advise the best course of action. Don't leave the house to go to your vet if you are self-isolating. Ensure that you regularly check the government guidance for your local area and continually self-assess your situation.

At any veterinary practice, it is vital you follow guidance regarding wearing a mask and maintaining social distance for both your safety and the safety of others. Wash your hands thoroughly with soap and water for 20 seconds before and after attending.

Read advice for pet owners from the British Veterinary Association.
What if my dog needs grooming?

Depending on your national/area restrictions, you may be able to have your dog groomed as long as premises are Covid-secure.

There is information and advice for groomers and other pet businesses in England – specifically regarding if/how groomers can operate in tiers 1, 2 and 3 - available from the Canine and Feline Sector Group.

For the rest of the UK, ensure you're following any area/nation Covid-19 guidance and call your usual groomer before visiting. If you are subject to a higher level of restrictions, you should consider whether grooming is necessary for welfare reasons, or if it can be delayed. Don't leave your home if you are self-isolating or showing symptoms and make sure you're following the government guidance and restrictions depending on where you are. Links to each nation's guidance can be found at the top of this page.
How can I get help with training my dog during coronavirus?

Some of The Kennel Club's accredited trainers and training clubs are running online sessions that you may be able to get involved in – you can find these online.

Depending on where you are and which restrictions apply, some dog training classes may still be able to operate with social distancing and other measures in place. In the first instance, call your dog trainer. Defra-approved advice for dog trainers and other pet businesses in England is available via the Canine and Feline Sector Group.

We also have training advice for some issues which may have come about due to lockdown.
What can I do to keep my dog active?

Here are some tips to try indoors or in a garden, if you have one:

Play hide and seek with your dog – hiding treats or toys around the house for them to find
If you have a garden, let them out to play, run around, sniff and explore
Teach your dog new tricks or practice training
The Kennel Club has advice and ideas of things to do at home with your dog or puppy – from teaching recall to fun outdoor games

Agria, The Kennel Club's pet insurance company, working with Carolyn Menteith, a Kennel Club Accredited Instructor, have developed some guidance of what dog owners can do with their dogs while in self-isolation. This guidance includes how owners can use the opportunity while self-isolating to improve the bond with their dog, such as interactive games owners can play with their dogs.

Further information
Can dogs catch, get or transmit coronavirus?
The current pandemic is a result of human to human transmission and there is no evidence of animal to human transmission. The alleged animal source of virus remains under investigation.
The World Organisation for Animal Health says that while there is a possibility for some animals, including dogs, to become infected through contact with already infected human, there is no evidence the virus can spread from animals to humans. Studies are underway to help us better understand how the infection spreads in animals.
Questions and answers about your dog's health
If dogs aren't transmitting Covid-19, why are there a small number of cases of dogs positive?

There have been a very small number of reports of dogs testing positive for the novel coronavirus following contact with infected humans. However, those animals didn't show signs of the disease and it is believed they tested positive due to breathing in contaminated air from infected humans or carrying the disease on their fur.

As with any surface, if someone with Covid-19 touches, sneezes or coughs on a dog, the virus could temporarily contaminate them. Although we don't know how long Covid-19 can survive on surfaces, scientists think that it could range from a few hours to several days, depending on the type of surface, how warm it is and levels of humidity.
Can my dog become unwell from Covid-19?

No. There have been no cases of dogs becoming unwell from this new type of coronavirus.

If your dog is unwell then it is very unlikely that Covid-19 is the cause of their illness, but it is still important that you contact your vet to find out what is causing their illness.
Can dogs catch other types of coronavirus?

Coronavirus are a large group of viruses and there are many different types. The new type of coronavirus (Covid-19) is currently being passed between humans and there is no evidence that it affects dogs. There are certain strains of coronavirus that do affect dogs (such as canine respiratory coronavirus), but these are different from Covid-19 and cannot be passed to humans.
If this new coronavirus originally came from animals should I be worried about my dog?

It is thought that

Covid-19

originated in an animal market in China, but source of the infection is still under investigation. Although it is believed that the virus jumped from an animal to a human, it does not mean that all animals can spread the virus. Currently there is no evidence to suggest that

Covid-19

can be transmitted through dogs.