What is the breed health co-ordinator mentor scheme?
The breed health co-ordinator mentor scheme helps breed health co-ordinators (BHCs) who require assistance, especially those new to the role. The mentor scheme currently involves a small number of highly experienced and passionate breed health co-ordinators and health representatives who have volunteered to help you to help your breed.
How does the scheme work?
Use the information below to determine which mentor(s) would be best suited to you and your enquiry
Complete our quick enquiry form to help us know a little more about you, your circumstances and the sort of assistance you need
Your completed enquiry form will be sent to your chosen mentor who will get in touch with you as soon as possible
Once your mentoring has come to an end, please complete our feedback form to let us know about your experience
If you have any queries or questions at any point, please feel free to
email The Kennel Club's health team
.
BHC mentors
Please use the information below to identify the type of assistance that you require.
Currently we have six BHC mentors:
Ian Seath

Lesley Field

Liz Branscombe

Louise Scott

Archie Bryden

Tina Watkins
Each of the mentors have identified the areas in which they can help and the matrix below will direct you towards the mentor(s) that will be best suited to answering your enquiry.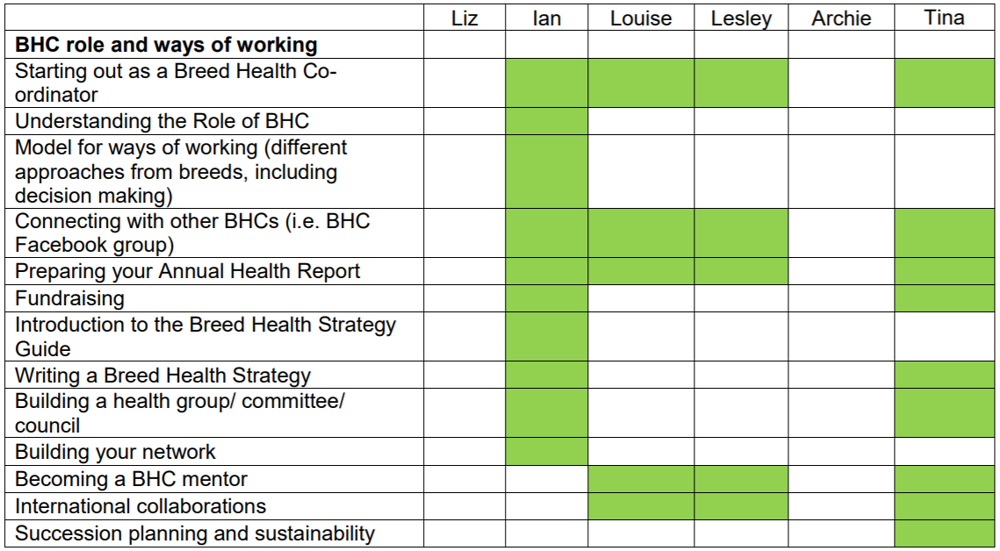 If more than one mentor could be of assistance, we have provided short biographies to help you choose which mentor would be best suited to help you.

The mentors are:
Ian Seath

Ian is chairman of the Dachshund breed council and a member of their health committee. He has owned Dachshunds since 1980 and awards CCs in the breed.

Ian is also president of one of the Dachshund breed clubs and chairman of another. He works as a management consultant, coach and trainer, specialising in continuous improvement and change management.

His canine interests include education and training of judges as well as all aspects of breed health improvement. He was a contributing author for

The Kennel Club's breed health strategy guide

and the

surveys toolkit

. He has supported BHCs in several other breeds, e.g. in the design and analysis of health surveys, ad hoc analysis of health data as well as design of health websites.
Lesley Field

Lesley has worked alongside her good friend Louise Scott as the joint English Springer Spaniel breed club's breed health co-ordinator for over 18 years. She has owned and bred English Springer Spaniels for 43 years, as well as sharing her family life with Whippets and horses.

She has worked on a daily basis with the general public, as well as with canine specialist organisations, governmental bodies, the veterinary profession and centres of canine clinical excellence. She has served on two major English Springer Spaniel breed clubs over the years both as an Officer (Treasurer and Assistant/Show Secretary) and committee member.

She was a member of the Advisory Council on the Welfare Issues of Dog Breeding from 2010 – 2014 and now serves as a Member and Trustee of the Dog Breeding Reform Group.

Seeking improvements in canine education to make life better for dogs and their owners is a challenge that brings Lesley much pleasure and reward.
Liz Branscombe

Liz is the Flatcoated Retriever BHC and Chairman of the Flatcoated Retriever Society health sub-committee. She has owned Flatcoated Retrievers for over 30 years and enjoys showing and working her dogs.

Liz qualified as a Veterinary Nurse in 1986, has worked in both small and mixed animal practices and gained an advanced surgical nursing qualification in 1994. The majority of her veterinary nursing career has been spent working in clinical roles in specialist referral practice. Her current role in practice is Training Manager with primary responsibility for the training and development of a team of 60 full- and part-time veterinary nurses. Liz has used experience gained in managing a group health study for her breed to advise other health coordinators wishing to set up similar schemes for their own breeds.
Louise Scott

Louise is joint breed health co-ordinator for English Springer Spaniels, working alongside her friend and colleague Lesley Field, on behalf of the eight Kennel Club recognised UK ESS breed clubs. She has owned English Springer Spaniels since 1981 and has judged the breed on many occasions over the past 30+ years. She is a longstanding member of the Southern English Springer Spaniel Society Committee, serving as its Membership Secretary since 1993. Nowadays, she loves sharing her life with a beautiful ex-racing Greyhound.

With a background in human resource management and company administration, Louise's role as breed health co-ordinator combines her communication and organisational experience with a deep commitment to improving canine health and welfare. Owner/breeder education, consultation and co-operation with clinicians, researchers and professional organisations are key areas of practice. Her experience includes breed health survey design and implementation, data collection, analysis and reporting.
Archie Bryden

Archie has been the breed health co-ordinator for Staffordshire Bull Terriers since the inception of the role and is the current Chairman for the North West Staffordshire Bull Terrier Club. Archie has been an official and committee member since 1986 and has served on the Staffordshire Bull Terrier breed council genetics sub-committee which led to the development of DNA tests for juvenile hereditary cataract (HC-HSF4) and L-2-Hydroxyglutaric Aciduria.

Archie has bred and exhibited Staffordshire Bull Terriers since 1981 and also exhibited a Miniature Pinscher. He is a Championship Show Judge under Kennel Club regulations since 1994 and has awarded CCs, or their equivalent, in numerous countries worldwide.

Archie is a retired Virologist/Microbiologist with experience in academic research, publishing, and lecturing. Archie has a PhD on rotaviruses, a major cause of juvenile gastroenteritis and has a strong academic background, which leads him to be naturally interested in canine health in general and the need for good science to enable progress.
Tina Watkins

Since 2013, Tina has been the breed health co-ordinator for the eight Basset Hound clubs. She has owned and bred Basset Hounds since the early 1990s, was passed to award CCs in 2008. She joined the Basset Hound Club of Wales as a member in 1992, serving as Treasurer since 1993, Assistant Secretary from 2006 to 2014 and became Secretary in 2014. During this time, she also served as Chairman of Newport (Gwent) & District Canine Society. Tina serves as a Committee Member of the Hound Club of Wales and is the Treasurer of the Dachshund
Club of Wales.

Her background in administration is wide and varied, having skills in business and serving as a Parish Secretary for 21 years. Being the breed health co-ordinator for Basset Hounds has enabled her to undertake a key role for a Breed Watch category 3 breed, promoting breed health, collation and circulation of information, devising and producing breed health databases and certificates, contributing to the 2014 breed health survey, data collection, analysing and reporting. Tina also has experience liaising and arranging for veterinary assessments and supporting the Animal Health Trust enabling testing sessions for their study into hereditary glaucoma and design and maintenance of the BHHG (Basset Hound Health Group) website. Tina's commitment and dedication as a Breed Health Co-ordinator has helped achieve the Basset Hound being re-scheduled to Breed Watch category 2 in January 2017.