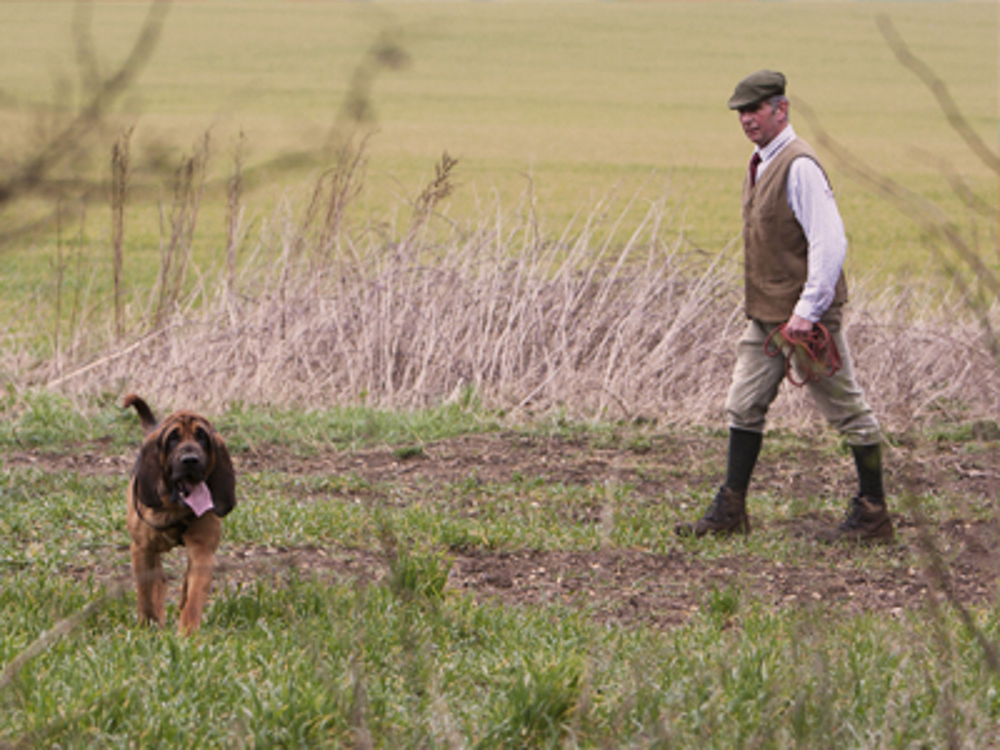 How to run your event
Applying for your licence

All trial dates must be applied for either in writing on club headed paper or by completing a trial date application form which can be found in your club profile. 
The licence must be displayed at the trial
Appointing a judge

Find a list of all those who have attended Bloodhound working trial judging seminars and passed the examination or assessment on Find a Judge. 

Please note that although it is necessary for new judges to have passed the seminar and exam, successful candidates will not necessarily be ready to become Bloodhound working trial judges. All judges must be fully conversant with The Kennel Club Working Trial and Bloodhound Trial Regulations. 

Once you have chosen your judge, for championship only you need to complete a judge nomination form.
Preparing the schedule

All schedules must conform to The Kennel Club's specimen schedules:

A copy of the schedule issued for each trial must be retained by the organisations for at least one year from the date of the trial.
Completing the catalogue

A marked catalogue must be submitted to us within 14 days of the trial. You can submit your results through the club profile. 
It's essential that qualifying marks for the dogs placed in championship stakes are notified to us
Judging at championship trials

Nomination forms must be with us six months prior to the date of the Bloodhound working trial
All first-time appointments must be applied for 18 months prior to the date of the trial
First-time championship appointments should be sent to us. The nomination form

 

should be accompanied by a completed judges' questionnaire
What administration should I do before the show?

Societies are required to consider government advice, including DEFRA, in place at the time when planning an event. It is also worth noting that often advice is different for different parts of the United Kingdom and this needs to be taken into account when planning the event both in relation to the venue and expected participants.
Do I need insurance cover?

One of the main concerns for societies is whether there will be adequate insurance cover. Kennel Club show regulations stipulate that insurance is required – otherwise the show licence is invalid. It is always best to check with the society's own insurance provider in terms of the amount of and heads of cover. We have partnered with Pet Business Insurance (PBI) to provide specifically designed insurance cover for canine clubs or societies, including public and products liability insurance at a competitive price. It is unlikely that any Covid-19-specific insurance will be available but general public liability will be available.

You can contact them on 01284 736874 or

visit their website.

A society should make best efforts to ensure that the venue/ground is Covid-19 safe, in line with government advice available at the time (including risk assessments). This will then help in demonstrating that the society has discharged its duty of care to participants and visitors. It is not possible to guarantee a no Covid-19 risk scenario, and there will be an element of assumption of risk by the participant/visitor. The society's job is to minimise that risk. As always in the context of health and safety, there should be clearly documented instructions and role descriptions defining the clear delegation of responsibilities for the range of health and safety issues at the event.

A statement must be included in all schedules to state that if an exhibitor, or anyone in their household, has Covid-19-related symptoms or has tested positive for Covid-19, they must not attend the event.
Insurance

Society committees must ensure that they have adequate cover for all the society's activities. A current public liability insurance document must be clearly displayed at all Kennel Club licensed trials. Learn more about The Kennel Club Insurance cover, which is specifically designed for canine clubs or societies.
Risk assessment

It is the responsibility of the organiser to address matters concerning health and safety, and fire prevention at all trials licensed by The Kennel Club.
Incidents

Within two weeks, please report to us if there were any incidents requiring a report, e.g. biting/aggression incidents, formal objections/complaints, changes of judging arrangements, cancellation or abandonment. These should be logged in the incident book and sent to us. Learn more about incidents at events.
Cancellation or postponement

It is important that the society and show services department is informed of a cancellation in writing by completing the cancellation of shows/trial form as soon as this decision is made, giving the reason for the cancellation. It should not be assumed that because the licence application form is not returned to The Kennel Club by the due date, that the trial will be removed from the show diary. 

If the cancellation is notified far enough in advance, this could free up a date for use by other clubs and societies, and in other instances it will prevent the office assuming the event is going ahead and therefore sending out unnecessary reminder letters for schedules and/or catalogues. 

Read further information about cancellation of events.
General data protection regulation (GDPR)
Organising a Bloodhound working trial seminar

Judging seminars are usually hosted by registered clubs and societies, but any individual or group is welcome to organise and host a seminar
The seminar content must be presented by an appointed Kennel Club accredited trainer
Societies, individuals or groups organising a seminar should contact one of the accredited trainers to invite them to conduct the seminar and arrange a suitable venue. They can then advertise the seminar to attract sufficient attendees. The organisers charge attendees reasonable fees at their discretion and should arrange for payment of the accredited trainer's expenses with the trainer. Trainers will usually bring relevant literature (such as regulation books, judges' guides and judges' record books) to the seminar for purchase by the candidates - in some cases the cost may be included in the seminar fee
Bloodhound working trial accredited trainers

| Name and email | Address | Telephone number |
| --- | --- | --- |
| | Derbyshire | 01246 566959 |
| | Tyne and Wear | 01912 902928 |
| | Buckingham | 01296 738776 |
Risk assessment

Every society must undertake its own individual risk assessment for every event.

Any particular measures or conditions that competitors need to be aware of prior to the event must be included within the schedule.
Officials' meals

Hospitality and catering arrangements for judges, officials and stewards should be reviewed in line with relevant Covid-19 and food safety guidelines. If meals are being served, appropriate PPE should be worn by those serving.
Judges

If a judge has been contracted for a future show/event and is no longer willing to officiate due to concerns relating to Covid-19, their age or health, the contract should be cancelled and a new judge appointed. It must be acknowledged that everyone's circumstances are different and therefore The Kennel Club will not take any action against a judge not fulfilling their appointment in these circumstances.
Venue

Written guidance should be sought from the venue hirer regarding any special measures the show committee must undertake during their hiring period.
Schedule of events

It is not necessary for any activity to schedule a full range of classes and therefore societies should consider carefully which classes/stakes to schedule to ensure the event is of a manageable size, taking into consideration any additional health and safety requirements. A statement must be included in all schedules to state that if a competitor, or anyone in their household, has Covid-19-related symptoms or has tested positive for Covid-19, they must not attend the event.
Veterinary cover

For those events that do not have on-site veterinary cover, liaison must be undertaken with the on-call veterinary practice to ensure it is able to provide the required cover.