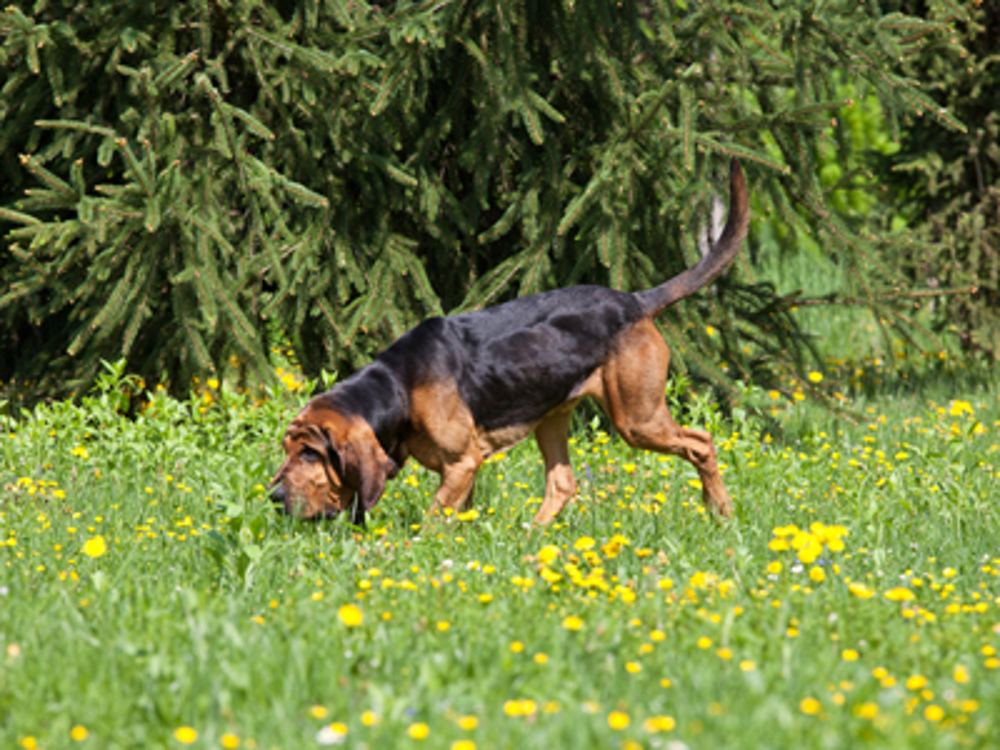 Once you start competing in Bloodhound working trials, you'll be thrilled watching your dog work, and you'll want to compete more.
Competitors taking part in any Kennel Club licensed event must familiarise themselves with the
Working Trial and Bloodhound Trial Regulations
beforehand (regulation amendments as of 1 January can be found in the back of this booklet).
Below are a number of awards you can achieve with your dog:
Certificates of merit: judges may award a certificate of merit in all stakes to any unplaced hound which has given a good performance
Bloodhound working trial certificates: a Bloodhound which wins a senior stake at a championship Bloodhound working trial may be awarded a Kennel Club Bloodhound Working Trial Certificate (a 'ticket'). The judge must consider that the hound has clearly identified the runner at the end of the line, and the hound must have worked without assistance throughout the line
Championship qualification: the highest accolade in Bloodhound working trials is the title of Working Trial Champion (WT Ch), which is awarded to a Bloodhound which has won two Working Trial Certificates under two different judges
Events: four Bloodhound championship trials are held every year; two are organised by the Association of Bloodhound Breeders and two by the Bloodhound Club
Working Trials Liaison Council
The Working Trials Liaison Council enables competitors and both working trial and Bloodhound working trial clubs to communicate with us.
Want your voice heard? The council is the key channel for you to make positive changes to Bloodhound working trials. Proposals from the council can result in fundamental changes in our policy which means they're valuable to everyone involved in the activity. Made up of 18 representatives from all over the UK, the council meets once a year to discuss matters that may affect you.
Progressing in Bloodhound working trials
When you have gained more experience, you are likely to want to progress into more advanced stakes and aim for the higher awards and trophies available.
Progress from the junior stake to the novice stake, then to the intermediate stake, and finally to the senior stake, is generally achieved by gaining a 1st or 2nd place in the stake in which you are currently competing, except qualification to the senior stake which requires a win in intermediate.
What are the requirements for each stake?

Novice stake - working a line 1 mile long and at least half an hour cold. Once a hound has won a 1st or 2nd place in a novice or junior stake, or 1st in an intermediate or senior stake, it can no longer compete in a novice stake
Junior stake - working a line 2 miles long and at least an hour cold; hounds must have won a 1st or 2nd place in a novice stake to enter. They can no longer enter a junior stake after winning a 1st or 2nd in a junior stake or 1st in an intermediate or senior stake
Intermediate stake - working a line 2

½

 miles long and at least one and a half hours cold; hounds must have gained a 1st or 2nd place in a junior stake to enter. They can no longer enter an intermediate stake once they have won 1st place in an intermediate or senior stake
Senior stake - working a line 3 miles long and at least two hours cold; hounds must have won 1st place in an intermediate stake to enter, and must have been stock tested so that they can be hunted free (off leash)
Special Bloodhound stakes
The Association of Bloodhound Breeders - special stakes

Brough Cup - hounds obtaining 1st or 2nd place in the senior stake at the Association of Bloodhound Breeders' spring and autumn trials may compete for the Brough Cup on lines six hours cold
Bracken Trophy - the winner of the Brough Cup and hounds awarded a certificate of merit in that stake, along with Working Trial Champions by invitation, may compete for the Bracken trophy on lines 12 hours cold
Marlwood Beaker - the winner of the Brough Cup, the winner of the Bracken Trophy and hounds awarded a certificate of merit in that stake, along with Working Trial Champions by invitation, may compete for the Marlwood Beaker on lines 24 hours cold
The Bloodhound Club - special stakes

Kelperland Trophy - the best of the year's senior working hounds are invited to compete for the trophy stake, which is open to all Working Trial Champion Bloodhounds and the present holder of the Kelperland and Millvery Trophies. Eligibility in each year is determined by the hounds winning the 1st or 2nd prize in the senior stake at championship trials for Bloodhounds held by the Bloodhound Club (BC) and the Association of Bloodhound Breeders (ABB)
Millvery Trophy - eight hours cold over 2 miles
Next step - judging Bloodhound working trials