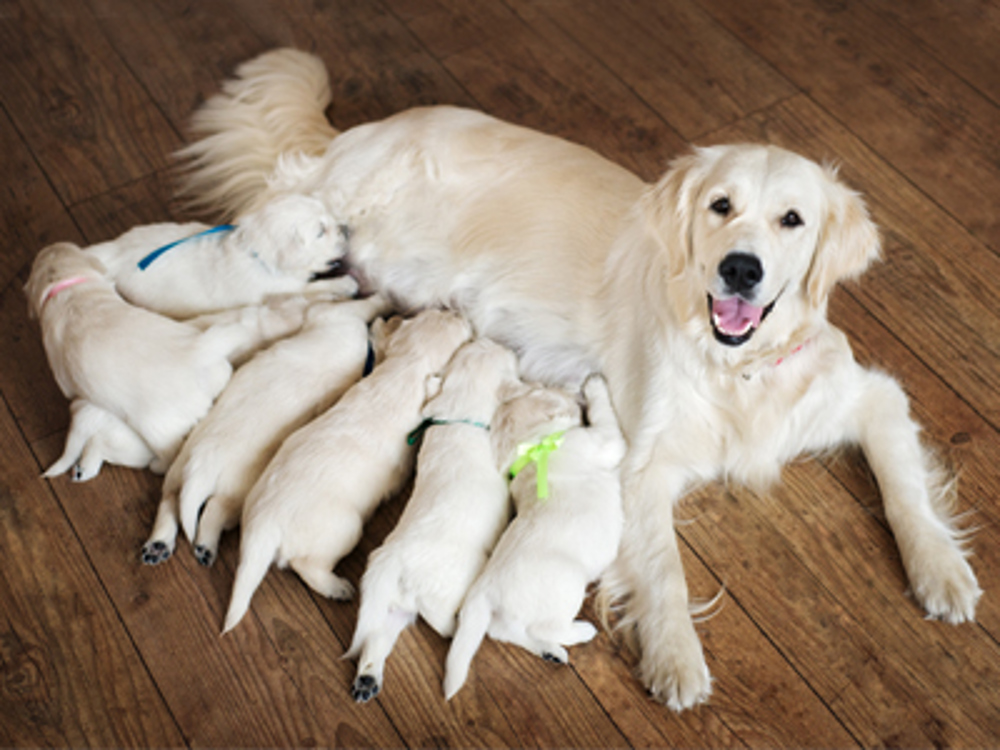 Our Assured Breeders scheme promotes good breeding practice and gives recognition to those breeders who are prioritising the health and welfare of their breeding stock and the puppies they produce.
Those breeders who demonstrate a commitment to responsible breeding are eligible to join the scheme and in return, receive Kennel Club endorsement and discounts on registration. The annual membership also entitles them to advertise free of charge on Find a Puppy, where puppy buyers can clearly see that litters have been bred by an assured breeder.
What is The Kennel Club Assured Breeders scheme?

The scheme is intended to help direct puppy buyers to those breeders who follow best breeding practice and who conduct health testing for known inherited health conditions in their breed/s.

Every assured breeder is inspected by The Kennel Club, a UKAS accredited certification body, to ensure that their facilities and practices meet the welfare requirements set out in the scheme standard.
Why join the scheme?

To reward assured breeders, we offer the following benefits:

Free listings on our Find a Puppy service, so assured breeders can advertise their puppies (valued at £20 per litter), with the premium assured breeder badge next to the breeder's name
Free listing on Find an Assured Breeder
Free puppy sales wallets with each registration document to pass on to puppy buyers
Prioritised access to support, advice and information from The Kennel Club
Discounted registration fees, saving £2 per puppy
Discounts to The Kennel Club's events
Access to assured breeder advice

In conjunction with our partners, we offer a comprehensive package of discounts, worth over £350 in savings, including:

15% discount with BVA for online hip and elbow dysplasia schemes submissions
30% discount on DNA testing with the Animal Health Trust
20% discount on DNA testing with Optigen
10% discount on DNA testing with Laboklin
15% discount on The Kennel Club's identification tags, which feature high-quality laser engraving
£4 discount on Breed Record Supplement subscriptions
How does it help puppy buyers?

Potential puppy buyers are directed to assured breeders through our Find a Puppy and Find an Assured Breeder services. For both occasional and regular breeders, this is an important badge that shows your commitment to the health and welfare of your dogs.
What are the requirements?

You can read the scheme standard in full, or view the fundamental requirements of the scheme below:

Ensure that all breeding stock is registered with The Kennel Club and that the dog's signed registration certificate is handed over at time of sale
Make sure that health of breeding stock and puppies produced is a particular priority and make use of

 

health screening schemes, relevant to their breed
Allow the premises to be inspected and are assessed by a trained Kennel Club assessor to ensure compliance with the

 

scheme standard
Commit to operate to high standards and duty of care and comply with all relevant laws including the Animal Welfare Act (2006) and microchipping legislation
Only sell puppies bred by the breeder themselves and raised in their own safe and secure environment, which meets all the requirements of the Assured Breeders scheme
Socialise the puppies and provide written advice on

 

continuation of socialisation
Take all reasonable steps to ensure that purchasers are able to provide a suitable home and that they are committed to caring for the dog for the whole of its life and provide reasonable after-sales advice
Allow any purchaser to be able to view the puppies with their mother and siblings, in the environment that they were born and raised
Commit to help, if necessary, with the rehoming of any dog that they provide within the scheme, throughout the dog's lifetime, for whatever reason
Issue the scheme's puppy sales wallet for each dog sold containing up-to-date written information
Breeder assessment visits

The purpose of visiting breeders is simply to ensure compliance of the scheme, to offer information on how the scheme can benefit the breeder and to give an opportunity to discuss any issues face to face with one of our regional breeder assessors (RBA).

Upon joining the scheme, every breeder agrees to allow an RBA access to visit their premises. Learn more about breeder assessment visits.
How much does it cost?

An initial administration fee of £25 is payable upon submission of your application, the Assured Breeders scheme team will provide a payment link via email to take the remaining £60 joining fee* once your application has been reviewed.

Please note: you will need to receive a breeder assessment visit every three years to ensure that you comply with the scheme requirements. The annual membership fee covers the cost of each visit.

*payable on an annual basis
Our Assured Breeders scheme - frequently asked questions

1. I breed my dogs infrequently, is the scheme for me?

The majority of people who register their dogs with The Kennel Club do not breed large numbers of litters. 75% of people who register litters with The Kennel Club breed only one litter per year, or fewer. However, we need all breeders, large or small, to be part of the scheme - even if you only ever sell one or two puppies outside of your family in a lifetime. Irresponsible breeders and puppy farmers may use the excuse that they breed infrequently and so do not need the scheme - but if all of those people who are genuinely in this position sign up then disingenuous breeders will no longer be able to trade.

2. What experience is required to become an assured breeder?

Many assured breeders have a wealth of experience and will have bred for many years, and we do require breeders to have bred at least one litter prior to acceptance. However, if an applicant has not previously bred a litter but has received a successful breeder assessment visit, the applicant's yearly payment will be activated and the membership will remain in a pending state until the applicant applies to register a litter that meets all the requirements of the scheme.

The 'experience accolade' denotes those breeders who have bred more than five litters. However, the scheme is open to any breeder, regardless of experience, providing they subscribe to and abide by good breeding practice and fulfil the health testing requirements.

3. Does The Kennel Club profit from the scheme?

The Assured Breeders scheme exists to improve the health and welfare of dogs; it is certainly not a way for The Kennel Club to make money. The money that The Kennel Club receives goes back into the print, marketing and administration costs of running the scheme.

Further developments, such as the implementation of a network of regional breeder assessors and our call to make the standards of the scheme mandatory for all breeders by law, means that The Kennel Club is continually investing in developing the scheme further.

4. What are assured breeder accolades?

The assured breeder accolades give buyers information about where the breeders' priorities lie. For example, the 'stud book accolade' indicates that the breeder has enjoyed some show ring success and is clearly breeding dogs that have a level of quality that are typical of the breed.

Additionally, every assured breeder is required to complete a 'statement of experience' which is made available to people requesting information. This provides an ideal opportunity to inform the public about additional health tests that they carry out and indeed any other information about themselves which is relevant.

We feel it is important to provide as much information about the breeders as possible and this was why the 'experience accolade' was introduced for those responsible dog breeders who have bred more than five litters. However, the accolades are designed to reward those breeders who are following exemplary standards.

5. Will there be improvement courses for breeders?

As new scientific knowledge in the health and well-being of dogs increases every year, it is vital to keep up to date with these changes. That's why we created The Kennel Club Academy with dog breeders in mind. This is our home of accessible online education where breeders can learn at their own pace, building upon and expanding their knowledge in the world of dogs. There are a variety of resources that will appeal to breeders, in particular our breeder education learning resources, which feature insightful videos covering topics from pre-breeding considerations right through to rearing, owning and caring for the health of your dogs.

6. What is UKAS?

UKAS is the United Kingdom Accreditation Service. It's the sole national accreditation body recognised by government to assess against internationally agreed standards. Our UKAS accreditation demonstrates that The Kennel Club has been assessed against internationally recognised standards to demonstrate its competence, impartiality and performance capability.

7. What does UKAS accreditation mean?

The Kennel Club is recognised by the United Kingdom Accreditation Service (UKAS) as a certification and inspection body and, as such, is able to issue UKAS accredited certificates to members of its Assured Breeders scheme. It is a level of quality assurance which means that The Kennel Club is checked and audited by UKAS in a similar way to the way that breeders are checked during a visit by The Kennel Club, to ensure that the rules of the scheme are followed. This gives confidence to puppy buyers that our assured breeders are part of a robustly run scheme where they are effectively monitored. As such, puppy buyers will have the best possible chance of buying a well reared and healthy puppy.

8. What happens after membership has been accepted?

Once accepted for membership, assured breeders may use the scheme literature and, if they use the Find a Puppy service, their litters will be highlighted to show that an assured breeder has posted them. Listings on Find a puppy are free of charge for assured breeders. Assured breeders will also have prioritised access to supplementary information and advice from The Kennel Club health and breeder services department.

9. What should the puppy sales wallets contain?

Assured breeders must use a puppy sales wallet for each puppy going to a new owner. The puppy sales wallet is designed to contain the following:

The assured breeder's contact details
Breed club contact details
A copy of the contract of sale and written explanation of any endorsements
A new owner questionnaire
Written advice on socialisation, training, feeding, exercise, worming regime and immunisation measures, as well as copies of any health or other relevant certificates

10. How much will I have to pay?

The annual payment fee costs £60. New applicants to the scheme will initially pay £80 which is made up of a £20 joining fee and £60 annual fee.
How do you monitor the scheme?
We police the scheme in the following ways:
Prior to acceptance

Applicants' records with The Kennel Club are checked and verified to ensure that the breeder is capable or likely to be able to fulfil all the basic scheme requirements. An appointment is made for a breeder assessment visit to be carried out.
Acceptance of membership

All applications are fully considered. Further information may be required so that we are satisfied the breeder is fully capable of meeting the requirements of the scheme.

An application may be subject to committee approval by its review panel.

We reserve the right to refuse an application.

Any breeder subject to Kennel Club disciplinary penalties under rule A42/43 will not be eligible for Assured Breeders scheme membership.
After acceptance

New members are effectively monitored by breed clubs who report to us any names who are, in their opinion, inappropriate candidates. If this happens then The Kennel Club investigates carefully.
Registering a litter

Every time an assured breeder registers a litter, the sire and dam of that litter are checked for compliance with the requirements. This includes checking for compulsory permanent identification (microchip) and both sire and dam are checked for compulsory health screening scheme results that are relevant to their breed. All the usual Kennel Club rules and regulations must be complied with.
Selling the puppies

Assured breeders are required to use the scheme's puppy sales wallets for every puppy that they sell. Included in these wallets is a feedback form that the new owner is asked to return to us. It helps us keep tabs on how well the breeder is complying with the scheme, particularly on matters that we are unable to monitor in any other way, such as whether the breeder provided advice on training, feeding, socialisation etc.

This provides ample opportunity for the puppy buyer to provide information about the whole experience of buying their puppy. Should any issues arise from this feedback, this is taken up directly, and in confidence, with the breeder. Litters and numbers of puppies registered by assured breeders are monitored and compared with the feedback received.

Upon joining the scheme all assured breeders sign the following declaration:

"I understand that by signing this declaration I confirm that I have read and agree to adopt the rules, regulations and practices of the Assured Breeders scheme and as may be amended from time to time*. I recognise that some of these may only be applicable if I am breeding dogs. If I breed dogs then all the rules will automatically apply. If I breed dogs in partnership with someone outside of the scheme then the rules of the scheme continue to apply to me and my membership may be affected by the activities of the other party. I accept that in the event of non-compliance, my name may be removed from the list of assured breeders and I will no longer be entitled to use the scheme literature or accreditation. I consent to the release of data/information to any relevant authority. (Note; there is a set grievance procedure and a copy of this can be obtained on request.)"

*Amendments will be announced and published on the assured breeder website and alerts will be provided. It is important that the assured breeder ensures that he/she checks for any scheme amendments before breeding a litter.
Breeder assessor visits

Upon joining The Kennel Club Assured Breeders, every member agrees to allow a regional breeder assessor access to visit their premises at any time upon reasonable notice. Occasionally we may have a complaint about an assured breeder and we ensure that these too are dealt with as a matter of urgency. We also arrange randomly selected visits to ensure that good practices as outlined in the scheme are followed. Every member of the scheme is visited prior to joining and at least once every three years thereafter.

In addition to breeder assessor visits, we ask all puppy buyers to complete and return the feedback form that all assured breeders must give out at the point of sale. This allows the puppy buyer to inform us of the conditions of the premises in relation to the housing of dogs and puppies.
How are the assured breeders monitored?

We take compliance with the scheme's requirements very seriously and have a robust system in place to ensure that members follow standards set by the scheme. 

All applicants' records are checked prior to acceptance on the scheme
A health screening records check for a member's breed is required
All members agree to be spot-checked by The Kennel Club throughout their membership of the scheme, in order to ensure our standards are maintained
We have a team of regional breeder assessors located across the UK. As the scheme grows in size, this team is expected to grow
All new puppy buyers are given feedback forms by assured breeders that they return to us and if this does not happen then we look into the reason why. We receive hundreds of feedback forms from new puppy buyers each month; most of the feedback is positively glowing. However, if any concerns are highlighted then we investigate fully and take the appropriate action. In some cases this might include removal from the scheme
What happens if assured breeders breach a requirement ?

Remember, there are no guarantees with buying a dog. It is entirely possible that a problem can develop in a puppy that is entirely outside of the control of the breeder or even the owner. However, in the unfortunate event that someone has a problem with a puppy bought from an assured breeder, or they believe that a member is not upholding the standards of the scheme, then there is a robust complaints procedure in place.

In the first instance, the problem should be discussed with the breeder. Most responsible breeders want to be made aware of any issues at the earliest opportunity and may wish to help or attempt to resolve matters or give advice at an early stage.

If the breeder is unwilling to help or give advice, then customers can submit a complaint. The scheme has customer complaints and grievance procedures in place, which can be found below.

At any time during the investigation of a complaint a breeder may be suspended from using or operating under the scheme pending the conclusion of such an investigation. During such suspension, puppies must not be sold under the scheme.
What if I have a complaint about an assured breeder?

The Assured Breeders scheme complaints procedure is as follows: 

Any person wishing to make a complaint about an assured breeder concerning any matter pertaining to the membership of the scheme, may do so in writing to the Assured Breeders scheme manager (the manager)
Any complaint should be lodged within 28 days, or such longer period as the manager may at their discretion allow, from either the date when the matter of the complaint arose or from the time when the matter, which is the subject of the complaint was discovered
A copy of the complaint must include a written statement and any supporting statements or evidence stating clearly what rule has been breached or where the spirit of the scheme has been contravened. A complaint form is available for this purpose
Details of the complaint shall be served on the assured breeder concerned who will be invited to submit a written statement setting out sufficient particulars to show on what grounds the complaint is denied or, if the complaint is accepted, to submit a written statement setting out any extenuating circumstances
Any written statement by the assured breeder shall be lodged with The Kennel Club, normally within 21 working days. The assured breeder's written statement shall be accompanied by signed statements from supporting witnesses (if any)
Following the receipt of the assured breeder's written statement, or, if the assured breeder does not submit a written statement, normally within 21 days, the manager may investigate the circumstances of the complaint further and require either the complainant or the assured breeder to provide any further information required
The matter may be determined on the basis of written submissions to the manager and may be decided on the basis of whether a material breach of the rules or the spirit of the scheme has occurred and, in the case where the information is disputed, on the balance of probability
Thereafter, the complaint may be disposed of by the manager. If the complaint is dismissed, both parties will be advised in writing. If the complaint is upheld, further action will be taken either by warning or censuring the assured breeder or by suspension of the member from the scheme as deemed appropriate

Assured breeders have the right to appeal against any decision that has been made under the complaints process. Details of the scheme's appeals process are below

The appeals process

Purpose

To give assured breeders the opportunity to appeal against action taken which affects their membership of the scheme.

Instructions

Where a complaint has been made and is upheld the assured breeder ("the appellant") may appeal to the Assured Breeders scheme sub-group. Any notice of appeal must be received by The Kennel Club not later than 14 days after the date on which the written notice of the managers' decision was served on the appellant.
A notice of appeal shall:
a. state the name and address of the person making the appeal
b. identify clearly the decision which is disputed and specify whether the appeal is in respect of the whole or in respect of any specified part of such decision;
c. set out the grounds of the appeal; and
d. include any additional evidence upon which the appellant relies, and set out the reasons why it was not presented to the committee


The legitimate points upon which an appeal may be considered are as follows:
a. the decision was based on a finding of fact that was perverse or irrational,
b. there was no evidence to support a particular finding of fact,
c. the decision was made by reference to irrelevant factors,
d. the decision was made without reference to relevant factors,
e. new evidence to that considered at the original hearing has come to light,
f. the decision was made for an improper purpose,
g. the decision was made in a procedurally unfair manner,
h. the decision was made in a matter which breached any governing legislation or regulations


An appeal will be heard and determined on the basis of written submissions to the dog health group Assured Breeders scheme sub-group at the next available meeting and a decision made


The result of the appeal will be communicated to the appellant. This decision will be final and no further appeals will be accepted
Information you will need to offer your puppy buyers
One requirement of the scheme is that members must provide advice to new owners on the following topics:
Topics to cover in your puppy pack

Socialisation information
Exercise information
Breed features and characteristics (information about the breed)
Training information
Feeding advice (diet sheet)
Grooming information
Worming regime (when puppy was last wormed, product used and when next worming is due) 
Immunisation regime (what vaccinations - if any - have been given and any that are recommended)
Copy of the contract of sale
Puppy's microchip number 

To assist with this there is now a puppy pack template which can be downloaded (written with the help of the Pet Care Trust, Pet Food Manufacturers Association, Bayer and the British Dog Groomers Association) and is available for assured breeders to adapt.

Before it meets the requirements of the scheme, the pack needs to be edited and personalised so that it is clear that it refers to you, and it should also contain information that is specific to your breed and puppies.
Owning a stud dog as well
Assured breeders are also required to provide a stud dog contract when their dogs are used at stud to visiting bitches. We have produced a guide to a stud dog contract which is available for assured breeders to use. Please note, that this document must be edited and personalised with your own information before it will meet the requirements of the scheme.
Ready to join the scheme?
Now that you've read through all the details about the scheme, these are the steps you need to take to apply:
Prepare your

 

puppy pack for your assessment visit. It is used by assured breeders to provide detailed advice to new owners on a variety of important topics, such as training, diet, health etc.
We will contact you to arrange a

 k

ennel assessment visit
Please note that applications may take up to 28 days to process. If you do not wish to apply online, you can request a written form from us, which you can return via post.