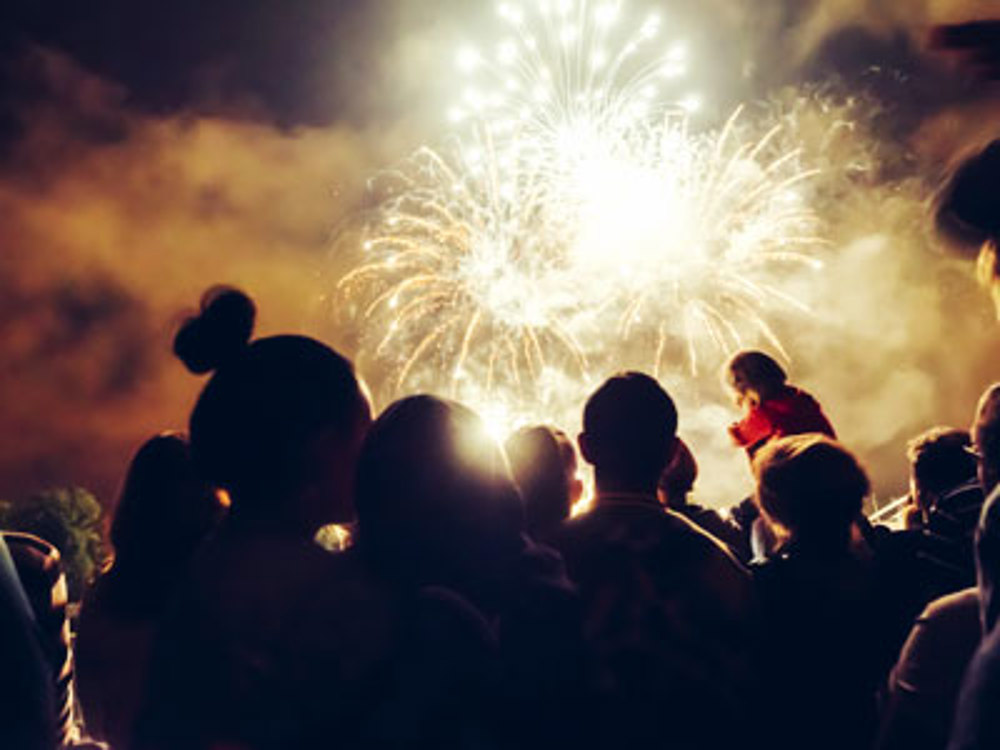 With around 40% of the UK's dogs being scared of fireworks, many owners often need to plan ahead and take steps to help keep their dog calm and safe in the weeks preceding Bonfire Night.
The element of surprise is a key factor in why dogs find fireworks uniquely distressing. If dog owners can anticipate fireworks they can manage the distress in a way that works for their dog. It is not uncommon for dog owners to travel to avoid displays.
The problem

Easy access to fireworks means dog owners are facing a constant waiting game when it comes to loud noises and scared pets
Dogs feel safe and secure when they can predict and control their environment, so when unexplained noises happen unexpectedly, such as those caused by fireworks, this can be extremely stressful for dogs
In these cases, we may see behaviours such as avoidance (e.g. hiding away, not eating and agitation) and overt behaviours (e.g. barking, spinning, tail chewing) that occur as dogs try to drive away from the perceived threat
These behaviours can be extremely challenging for owners to address because fireworks remain out of their control and therefore they are unable to remove the triggers for their dog's fearful behaviour
The Kennel Club's view

While we do not wish to see all fireworks removed from public display, there is a need to ensure that sensible measures diminish the harmful effects that fireworks have on dogs.

We are in support of fireworks use being restricted to licensed events only, with the licences provided by the local authority. This would allow for local councils to hold a central list of when and where fireworks displays are taking place, which dog owners are able to consider and prepare for.

Once there is an ability to identify when and where firework displays may be happening, mailing lists, notification systems or community notices can be established. This would provide an opportunity for residents to challenge the approval of a display, if it was felt it would have a significant negative impact on members of the community.

A licence for use would provide an opportunity to give information not only on how to use fireworks safely, but how to be considerate and to minimise impact on the community/neighbouring residents.
The Kennel Club's recommendations to Government

We are in support of fireworks use being restricted to licensed events only, with the licences provided by the local authority 

We would recommend the penalty for misusing fireworks to be a fixed penalty notice. This more immediate penalty is likely to be a more effective deterrent than the unlikely risk of prosecution
How can you help?

With over 8 million dogs in the UK, the dog-owning population accounts for approximately 25% of the British public, meaning that dog-related issues can have widespread voting appeal.

The way to keep politicians interested in canine welfare is to speak to them about your concerns on a particular issue (e.g. dog walking access, dangerous dogs, puppy farming etc.) and ask for their help. You can do this via email, a letter or even a meeting.

The key is to keep their mailbags full with dog issues to ensure that as your elected representative, they keep up to date with the issues that are most important to you, their constituent.
Get involved
If there is an issue you feel strongly about, write a letter to your parliamentary representative lending your support to one of our many campaigns and letting them know how they can help. Your emails and letters don't need to be long, in fact, the shorter the better as politicians are very busy. By doing this you will be playing your part in keeping the welfare of dogs on the political agenda.
Our guide to letter writing

Writing to your Member of Parliament at Westminster (MP), Member of Scottish Parliament (MSP), Welsh Assembly Member (AM), or Northern Ireland Member of the Legislative Assembly (MLA) will inform individual politicians about important campaigns and therefore enable pressing issues to be taken up in parliament much more effectively.

While we know that it is much easier simply to copy a letter and send it off, your parliamentary representative is far more likely to take notice if you write your own letter. Use the guideline below to draft your own letter:

[YOUR HOUSE NUMBER AND STREET][TOWN] [COUNTY] [POST CODE]
[EMAIL ADDRESS]
[PHONE NO.][NAME OF POLITICIAN] [PARLIAMENT OR ASSEMBLY ADDRESS] [DATE]

Dear

XXXXXXX

,

Paragraph 1: Why you are writing

The first paragraph of your letter should always introduce your concerns to your parliamentary representative. For example:

'I am writing to you regarding the issue of

[INSERT TOPIC]

, to ask that you support The Kennel Club's campaign to...'

(This information can be found on

the relevant campaign page of our website

.)

Paragraph 2: What you want to change

Each of the campaign's pages on The Kennel Club's website outlines the organisation's official position and what is being done to try and push for change. This information can act as a guideline for telling your parliamentary representative how existing legislation needs to be amended.

If you are writing to request that your parliamentary representative support The Kennel Club on a specific issue, you may wish to use something along the lines of the following wording as an introduction to the paragraph:

'The Kennel Club acts as a voice for thousands of dog owners across the United Kingdom. Supported by its vast expertise and experience on dog-related matters, The Kennel Club is proposing the following…'

…then write a bullet-point list into your letter.

Paragraph 3: Why these changes are necessary

Providing politicians with evidence will demonstrate that your concerns are valid. Use facts and figures to support your argument, and describe any personal experiences that you may have had to make your case even more powerful.

Paragraph 4: Action points

Tell your parliamentary representative the line of action that you wish them to take on this matter. This could be taking the matter up with their party, raising the issue in parliament, signing an EDM or supporting a specific Bill. If you are unsure what to write in this paragraph,

contact The Kennel Club's public affairs team

for advice.

Paragraph 5: Signing off

Request a reply. You may also wish to arrange a face-to-face meeting to discuss the issue further. Then all that is left to do is sign off:

'I look forward to hearing from you.

Yours sincerely,

[INSERT YOUR NAME]'

Once you have received a reply

To help keep us up-to-date on which politicians are aware/supportive of our campaigns, please photocopy or summarise the response you receive and send it to us

by email

or by post to: The Kennel Club Public Affairs, 1-5 Clarges Street, Piccadilly, London, W1J 8AB.

If your parliamentary representative has agreed to meet with you, read our guide to a successful meeting with parliamentary representatives below.
Our guide to a successful meeting with parliamentary representatives

Attending the surgery of your Member of Parliament at Westminster (MP), Member of Scottish Parliament (MSP), Welsh Assembly Member (AM), or Northern Ireland Member of the Legislative Assembly (MLA) will be the most powerful way of making them aware of pressing canine issues, enabling them to be taken up in parliament much more efficiently.

Most parliamentary representatives hold surgeries where constituents can meet them face to face. Sometimes notices of surgeries appear in local newspapers, but if not you can contact your MP, MSP, AM or MLA's office directly to book your appointment in advance.

Five steps to success

Preparation is key. Make a list of questions/topic areas that you want to discuss with your parliamentary representative. Go armed with facts and figures to support your argument. You should also take a notepad and pen to write down any important points for reference
Be direct. Introduce yourself and what you are there to discuss. State your concerns clearly, countering any opposing points that they may make. Do not become emotional – you will make a stronger argument by being calm and reasonable throughout
Listen and respond constructively. Once you have made your position, allow your MP/MSP/AM/MLA to present you with his/hers. Listen carefully for areas of agreement and disagreement, always be positive and try to ask questions that will probe their personal viewpoint rather than that of their party
Be aware of time. Stick to the issue and try not to get sidetracked into general debate - you will have a limited amount of time with him/her and it is important to make sure you get across all the points you wish to make
At the end of the meeting and beyond… Thank them for the meeting, summarise your discussion and outline the steps you can take going forward. Let them know that they can contact you in the future to discuss the issue further.

Follow up the meeting by writing a thank you letter, summarising your visit and any actions that your MP/MSP/AM/MLA has offered to take. You could also contact them again after a month to see what progress has been made. This will also help to keep the issue fresh in their mind.

For further information or advice, please contact The Kennel Club public affairs department on 020 7518 1020 or

by email

.
Contact your parliamentary representative
Tips on looking after your dog during fireworks