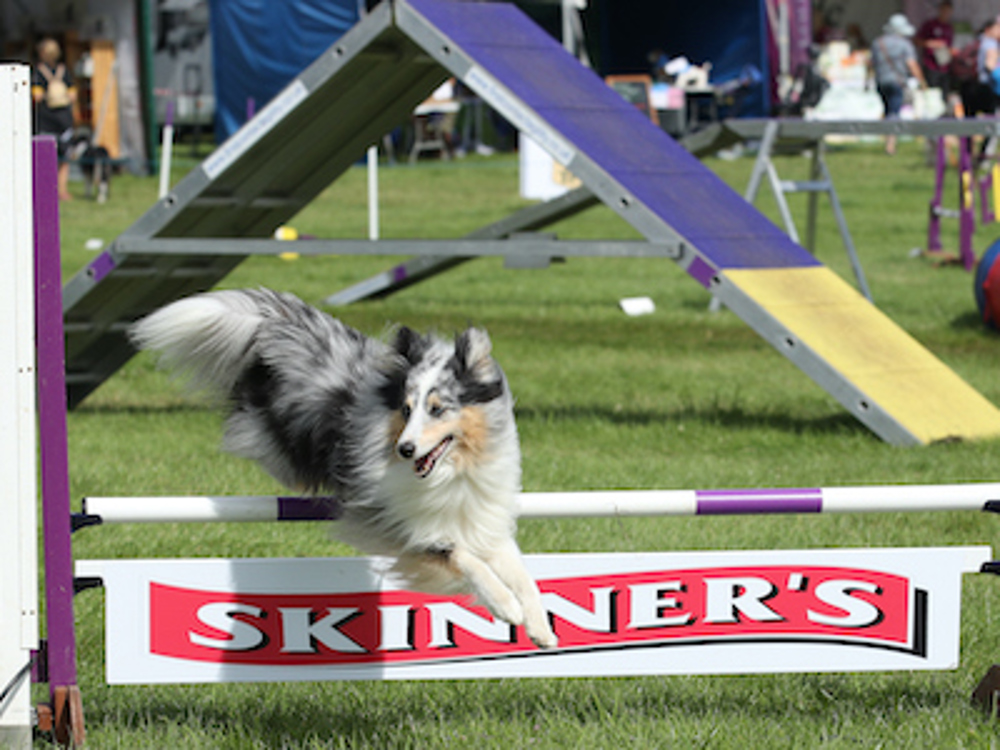 The International Agility Festival (IAF), sponsored by Skinner's Field & Trial will take place on the 12-15 August 2021 at Rutland Showground, Burley Park Way, Oakham, LE15 6US.
What is the festival?

The festival is open to any dog, as long as it is registered on one of The Kennel Club's registers - the Breed Register or the Activity Register - making it one of the few world-class agility competitions to be open to pedigrees, rescue dogs and crossbreeds alike. 

The festival always includes graded classes for all height categories and all grades of agility dog and handler, so that everyone gets a chance to compete at their own level at the UK's largest agility show. 

 
How to enter the festival

Entries for the International Agility Festival are now open. Entries and camping can be secured through First Place Processing.
Results from the festival
Taking part in Scruffts

The International Agility Festival will not be holding a Scruffts heat in 2021.

Scruffts is the nation's favourite crossbreed competition, sponsored by James Wellbeloved. Even if your crossbreed dog is not competing in agility, they can still be a winner in one of the many fun classes on offer in the Scruffts ring. 
Taking part in the companion dog show

The International Agility Festival will not be holding a companion dog show in 2021.
Team qualifier information

International Agility Festival Team Agility Competition (Special) 2021

All events must be judged under the appropriate Kennel Club regulations H&H (1) in force at the time of the event. Competitors entering any competition will be deemed to have agreed to abide by these regulations.

These competitions will be scheduled as a special combined class for grades 1 to 7 with a separate qualifying competition for each height category.

There will be up to eight separate heats for large, intermediate, medium and small height dogs at Kennel Club licensed shows throughout the country.

Eligibility

This event is open to teams from Kennel Club registered and listed status clubs which, at the time of entry to the qualifying heat, have indicated in their Kennel Club registration details that they have an interest in agility or are an agility listed status club. Each team entry will consist of four dogs from the same height category, with four different handlers, plus up to two reserves. Only dogs entered in the team or as reserves at the qualifying event will be permitted to compete for that team in the final should a change of dog be necessary. Only handlers that competed at the qualifying event or those listed as reserves will be permitted to compete for that team in the final should a handler be unable to compete.

All team members must be members of the club at the time of qualifying for the International Agility Festival teams final. Dogs do not have to be entered into any other class at a qualifying heat and a team entry will constitute acceptance of the organising club and Kennel Club rules and regulations.

Clubs may only qualify one team in each height category for the final at the International Agility Festival on Friday 13 August 2021.

Afternote: Please note that due to Covid-19 cancelled heats there will be no teams final at the 2021 International Agility Festival. If your team qualify for the 2021 final, the qualification will be carried forward to the final at the 2022 The International Agility Festival.

Once a handler or dog has run for a Kennel Club registered/listed status club in the International Agility Festival team agility qualifying event, they cannot run for another Kennel Club registered/listed status club in a qualifying event at the same height category during the qualifying year. (Handlers or dogs entered as reserves may run or be entered as reserves for a different team, provided they did not run in the original team's heat).

Competition rules

The competition will be held under Kennel Club rules and regulations for agility and any handler entering the competition will be deemed to abide by these rules and regulations. Jumps will be set at the standard height for each height of dog.

This is normally a team relay event involving a baton change between each dogs run. However due to Covid-19 there will be no baton changeover, and the event will be run as 4 individually scored runs following each other. The times and faults of each dogs run will be added together to produce a team score.
An elimination will incur a penalty of one hundred faults.

The total time of the team of four dogs must be recorded for marking purposes irrespective of the number of faults or eliminations that a team incur.

If any of the team members fail to complete the course or any of the team dogs fouls the ring the whole team will be disqualified.

Please note that some areas of marking for the International Agility Festival Team event differ from standard marking due to the fact that it is a relay class with cumulative marking and time.

Qualifying

The winners of each heat will be invited to the International Agility Festival final 2021 to compete in the small, medium, intermediate or large height finals. In the event that the winning team or club in a heat has already qualified for the final, then the highest placed unqualified team in that heat will be invited to the final at the International Agility Festival. 
If a team does not take up the invitation to compete in the final the invitation will be rolled down to the next applicable team from the relevant heat.


Administration

Note to show societies: The show secretary should record the top five placed teams and send the results to the working dog activities team at The Kennel Club within 14 days of the show by email. These results should include the name of the team, name of the registered/listed status club the team represents, team captain's name and address and the handlers, dogs and reserves in the team.

Team qualifier heats
Team qualifier heat results
Find out about our sponsor

Please read the below quote from Skinner's:

''With five decades of knowledge and heritage, Skinner's is the trusted name in food for working and active dogs. Now, the Field & Trial offering has been improved and expanded to include new formulations, a range of wet foods, an energy bar and training treats.

Generations of owners of working and active dogs have trusted the Skinner's Field & Trial range of foods to provide everything their dog needs for physical health and wellbeing, combined with performance.

The range is formulated to meet the energy requirements of active dogs, support bone, heart and muscle health and to ensure that when your dog is called into action they have the energy levels needed to perform happily and healthily.

The Skinner's Field & Trial range includes a complete diet for every age and breed of dog, as well as for every life stage and activity level. The new and improved Field & Trial range sees the very latest canine nutritional science used to ensure each diet contains the precise levels of added essential vitamins and minerals needed. With improved digestibility, your dog will love it even more! Find out more on our website or call 01379 384247.''
Trade stands

Trade stand
Information 
Contact number and email address
Website

Skinner's

The Kennel Club is delighted to welcome principal sponsor Skinner's to the 2021 International Agility Festival.

Skinner's will be offering nutritional advice and exclusive offers on their stand, as well as the opportunity to win a Field & Trial prize bundle containing their popular dry food, new complete wet food & treats!

Email
01379 384247

Click here

All Sorts 4 Dogs

All Sorts 4 Dogs bungee toys, tuggy toys, fleece toys, leads, treats, vetbed, cuddle blankets, cage pads, harnesses, training  camping items, dogs bowls, soft toys, silver sheets, mesh fencing, clips.

Email
07535 880765

 

Animal Krackers Crafts

Embroidered cushion covers, tote bags, tee shirts, wooden dog bowl holders, leads and coat hooks.

Email
01472 594873

 

Aquamat Dog/Water Master Ltd

Cooling, drying and warming products for dogs.

Email
01773 716237   

Click here

bECOsy

We have designed the worlds first pet bed to be registered by the Vegan Society.  They're machine washable, waterproof, contain 100% natural latex and have a removable top plus more!

Email
07841 394444

Click here

D And D Outdoor Clothing

Regatta clothing, bedding and dirt trapper mats.

Email 
07855 663697 or 07841 389882

 

Danetre Health Products Ltd      

UK Distributor of Photizo Light Therapy, effective and affordable LED phototherapy to accelerate natural healing of many acute & chronic conditions, pain relief & for muscle recovery. 

Email 
01327 310909

Click here

Dapper Dog

Leads, collars, harnesses, coats, bowls and more. Dapper Dog is for the discerning dog owner.

Email
0333 011 2880

Click here

DogOwners GiftStore

Dog breed specific gifts and magnetic jewellery for you and your dog.

Click here

Eden Holistic Pet Foods

Dog food and treats

 

Click here

Finer by Nature Ltd

Natural treats and chews and a range of raw diets made by ourselves. Great quality and value. Look out for our special show offers.

Email
01432 345388

Click here

Jewlnick Leather

Leather crystal collars, leads, toys, bedding, treats, polo shirts.

Email 
07974 416254

Click here

JR Pet Products

JR Pet Products manufactures 100% natural treats and chews for dogs. All of our products are single source protein, no additives or preservatives and, of course, responsibly sourced.

Email
020 7111 0935

Click here

K9ts

One stop shop for all your canine transportation needs.

Email
07730 277742

 

Pawstrading

We are a small family business that pride ourselves on customer service and having a wide range of products including but not limited to: vet beds, harnesses, toys, natural chews, training treats, food, beds including our own brand of training toys, Paws Made.

Email
01246 861522   

Click here

Performance Agility Ltd

Professional agility equipment

07985 475370

Click here

PowAir Odour Neutraliser

PowAir is a powerful blend of natural essential oils formulated to eliminate a wide spectrum of odours and it is not a masking agent.

Email
01472 426500   

Click here

Riaflex Ltd

Joint supplements

Click here

Ruff and Tumble Dog Company Ltd

Dog drying coats, sofa throws, drying mitts, fitted bed covers and more!

Email
0333 207 9960

Click here

South West Agility Goods

SWAG headcollars, leads, collars and toys  handmade in the UK  

Click here

Taggles Woof Stuff

Reversible double layer onesies for dogs; drying, fleece and pyjamas. Handmade with quality material in a wide range of colours.

Click here

Tagiffany

High quality pet ID tags to suit all needs. Collars and other dog related products.  Tags can be engraved on the stand.

Email 
0844 884 2268

Click here

The Smart Veterinary Clinic

Veterinary sports medicine and rehabilitation - providing fitness assessments.

Email 
01792 931239

Click here

Touchango K9 Ltd

Family run business, home to Touchango Toys - fun and motivational toys for your dogs. Also TotoFit Canine conditioning equipment, harnesses, leads and a large selection of natural treats.

Email
07790 722898

Click here

Tuffstuff Ltd

Embroidered leads and collars / personalised

Email
07973 346428 

 

The Woodland Trust 

Our representative will be talking to interested members of the public about the Woodland Trust's work in the UK and local area specifically, offering people the chance to understand more about the charity.

Email
0330 333 3300  

Click here

Woodland Agility Group

As well as being an agility club based in Leicestershire, we also stock natural dog treats and chews, enrichment products, coats and onesies, Aluminet shade, Leucillin spray Biothane leads etc.

Email
07811 397175  

Click here

WowGrooming

Products developed by groomers for groomers   

Click here
Catering stands

Catering stand
Information 
Contact number and email address
Website

Deli-licious

 

Email 
07824 429187

 

Farmer Lou

Artisan sausages & burgers as well as hog & beef roasts from our farm.

 

 

Kookaburra Coffee

Tea, coffee, hot chocolate, smoothies & milkshakes.

Email
07765 234098

Click here

Pizza Margherita 

Classic pizzas, cobbles (doughballs) & soft drinks.

 

 

Potato Crazy

Selection of fresh cooked breakfast baguettes and rolls. Jacket potatoes, paninis, hot and cold drinks.

 

Simply Cakes Direct

Homemade cakes and bakes served with barista style coffee, tea and a selection of cold drinks.

 

The Moulton Donut Company

Hot fresh donuts, hot and cold drinks, milkshakes, sweet & savoury pancakes.

Email
07884 061122

 
Still have questions?
For further information about the festival please email our events team or write to us at:
Events
The Kennel Club
10 Clarges Street, 
London W1J 8AB