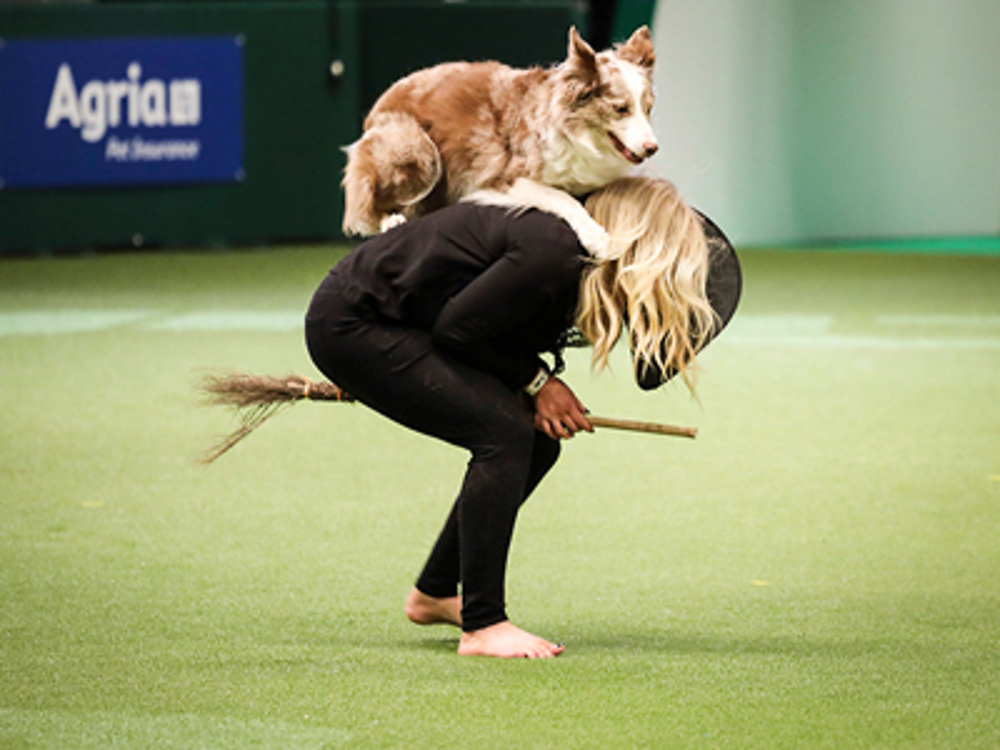 Being a heelwork to music competition secretary requires a huge amount of work and administration. This section provides all the information you need to assist with the task in hand.
Secretaries should be aware that changes and developments are made to the discipline throughout the year - any changes will be listed in media releases and on our website.
Notice to clubs/societies
Read more about the operational plan for the resumption of licensed events during Covid-19.
Register as a heelwork to music club
How to run your show
Setting up the competition

Decide on a date, a venue and the classes to be run
All competition dates must be applied for either in writing on club headed paper or by completing a competition date application form online which can be found in your club profile. 
Competition dates must be applied for up to six weeks before the show
The licence must be displayed at the competition
Book a suitable competition venue with adequate facilities including ring space, spectators' facilities, toilets and running water, refreshments, veterinary and medical arrangements, lighting and heating as appropriate, and parking. Audio equipment must be provided and, if necessary, a licence for playing music must be arranged. Timetable the official classes to be held, and any additional classes if desired
Selecting your judge

Identify suitably qualified and experienced judges for the number of classes and competitors anticipated. Two or three judges per class are required, one being the head judge. Judges should be invited in writing, and asked to accept in writing; the club should then confirm the appointment in writing to form a three-part contract.
Ballots

The following guidance has been provided to competition organisers to help assist in carrying out a ballot.

Competition organisers should give careful consideration to the management of the number of classes to be scheduled and the timings involved in those classes
Where the overall entry numbers require a ballot, ideally competitors should be asked if they wish to voluntarily withdraw; if not, a random ballot should take place
Where the entry for an individual class has exceeded 25, the class should be split
If the society is not in a position to split a class, a random ballot should take place to reduce the entry to 25

In order to enable competition organisers to plan their schedules effectively, the following table shows the projected routine times for HTM and freestyle. This information is based on timings from five heelwork to music competitions.

Class

Maximum routine time

Average time of each competitor – from placing props to clearing the ring and judging time

Time of class
with maximum 25 competitors, all competing

Starters HTM 

2.5 mins

4.175 mins  (4.0 minutes)

1 hr 44 mins

Novice HTM    

3.0 mins

4.84 mins    (5.0 minutes)

2 hrs 05 mins

Intermediate HTM

3.5 mins

5.58 mins    (5.5 minutes)

2 hrs 18 mins

Advanced HTM

4.0 mins

6.22 mins    (6.0 minutes)

2 hrs 30 minutes

 

Total time for 4 x classes and presentations 9 hrs 17 minutes

Class

Maximum routine time

Average time of each competitor – from placing props to clearing the ring and judging time

Time of class
with maximum 25 competitors, all competing

Starters Freestyle

2.5 mins

5.19 mins    (5.0 minutes)

2 hrs 5 mins

Novice Freestyle

3.0 mins

5.05 mins    (5.0 minutes)

2 hrs 5 mins

Intermediate Freestyle

3.5 mins

5.75 mins    (5.75 minutes)

2 hrs 25 mins

Advanced Freestyle

4.0 mins

7.125 mins    (7.0 minutes)

2 hrs 55 minutes

 

Total time for 4 x classes and presentations 10 hrs 10 minutes
What administration should I do before the competition?
What are the final preparations?

On the day of the competition, ensure copies of the

Heelwork to Music (L) Regulations

, all entry forms, programmes, the competition licence, insurance certificate, awards, equipment and an incident book are taken to the competition
A copy of the official catalogue for each competition, containing a full and correct list of all entries, with all the awards correctly marked, must be retained by the organisations for at least one year from the date of the competition and must be forwarded to The Kennel Club if requested, together with any other documents
What should I do if I have to cancel my event/show?

It is important that the society and show services department is informed of a cancellation in writing by completing the cancellation of shows form as soon as this decision is made, giving the reason for the cancellation. It should not be assumed that because the licence application form is not returned to The Kennel Club by the due date, that the show will be removed from the show diary. 

If the cancellation is notified far enough in advance, this could free up a date for use by other clubs and societies, and in other instances it will prevent the office assuming the event is going ahead and therefore sending out unnecessary reminder letters for schedules and/or catalogues. 

Read further information about cancellation of events.
Does the club need insurance cover?

Society committees must ensure that they have adequate cover for all the society's activities. The Kennel Club Insurance cover is specifically designed for canine clubs or societies, including public and products liability and directors' and officers' liability insurance at a competitive price.
Heelwork to music specimen schedules

The heelwork to music regulations specify that competitions must issue a schedule which conforms to the current specimen schedule issued by The Kennel Club. The specimens are available below and are regularly updated to take account of changes to the regulations or policy. Competition secretaries are advised to download the most recent version of the specimen schedule before preparing any schedules.
Incidents at events

Anything that occurs at an event that is 'out of the ordinary' should be considered an incident and logged in the incident book even if those involved do not wish to take any action. This information must then be sent to The Kennel Club within 14 days of the event. Learn more about incidents at events.
Risk assessment
Running a seminar for heelwork to music
The seminar and accompanying examination provide participants with a comprehensive introduction to the regulations and also the opportunity to discuss judging procedure and etiquette.

Each seminar is followed by an optional examination. The exam is nothing to fear; it uses a multiple-choice question format and the answers to all the questions will be covered in the preceding seminar. Seminars are primarily designed to help new and existing judges to ensure they are fully conversant with the regulations and their application in practice, but are open to competitors and others with an interest in learning the detail of the regulations and judging practice.
Things to know about setting up a seminar

Judging seminars are most usually hosted by registered clubs and societies, but any individual or group is welcome to organise and host a seminar
The seminar content must be presented by an officially appointed Kennel Club accredited trainer
Societies, individuals or groups organising a seminar should contact one of the accredited trainers (listed below) to invite them to conduct the seminar and arrange a suitable venue. They can then advertise the seminar to attract sufficient attendees. The organisers charge attendees reasonable fees at their discretion and should arrange for payment of the accredited trainer's expenses with the trainer. Trainers will usually bring relevant literature (such as regulation books, judges' guides and judges' record books) to the seminar for purchase by the candidates - in some cases the cost may be included in the seminar fee
Anyone who is holding a heelwork to music seminar this year is invited to email the details to our governance and education team so that the seminar can be listed on this page
Heelwork to music accredited trainers and presenters