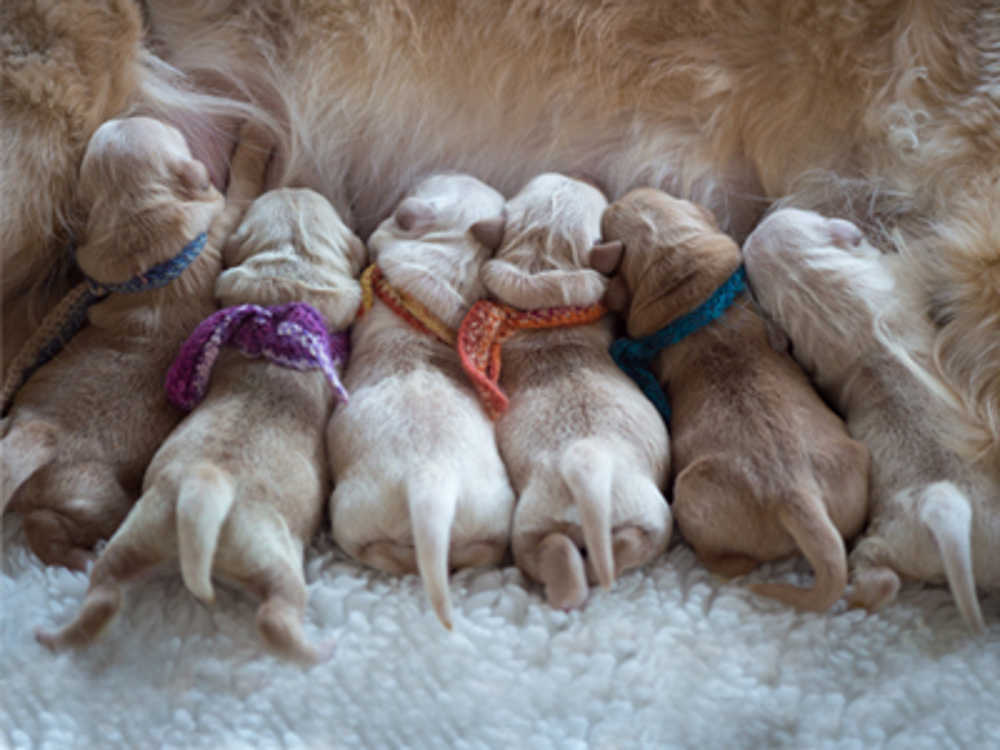 Once your puppies arrive
While this is a very exciting time, it's also a busy one. Here is a checklist of tasks you'll need to take care of before your puppies are ready to go to their new homes.
Checklist of things to do
What is microchipping?

Having your puppies implanted with a microchip from a supplier who chooses Petlog as their database of choice means they will be registered on one of the UK's largest databases of microchipped pets. Registration on Petlog, managed by The Kennel Club, provides your puppies and their owners with security and peace of mind. Visit the Petlog website for more information on the suppliers that Petlog work with.
Microchipping with Petlog

We believe that microchipping makes a clear link between a dog and its keeper. More than 100,000 dogs either stray, are lost or stolen each year with many having to be kept in kennels before being re-homed. Having a microchip means these dogs can be quickly reunited with their owners, reducing the stress for both the dog and its owner.

The government has introduced secondary legislation under the Animal Welfare Act 2006, which now makes it compulsory for all dogs in England to be microchipped and registered on with an authorised commercial database, such as Petlog.

It is compulsory for all dogs in the UK to be microchipped and registered on with an authorised commercial database, such as Petlog. In England, Wales and Scotland it is a legal requirement for breeders to microchip dogs prior to sale, including registering their details as the first keeper with a compliant database. In Northern Ireland breeders should ensure compliance with dog licensing legislation.
Benefits of microchipping with Petlog

Petlog is one of the UK's largest databases for lost and found services, which increases the chances of being reunited with your pet should it ever go missing
Petlog records your personal details and those of your pet instantly and also reunites a missing pet with its owner with the click of a button, saving you time, money and stress
The Petlog reunification service is based in the UK and is available 24/7, 365 days a year
Petlog is part of a European network of 32 databases, which gives customers the best chance of finding their pets wherever they are lost, even if it happens abroad
Petlog is managed by The Kennel Club - a trusted name in animal welfare
How to record your litter with Petlog

Find an implanter that uses microchips associated with Petlog
Get your dog microchipped
The implanter will record both yours and each of the puppies information with Petlog and you will receive confirmation
You will then be able to pass on the microchip details to each of the new owners allowing them to change keepership where they can choose to remain on the basic level of service or elect to upgrade to the premium service for a one-off fee. Learn more about Petlog Premium
Registering your puppies with The Kennel Club
Benefits of registering with The Kennel Club

Registering with The Kennel Club brings many great benefits, including: 

individual registration documents issued for each puppy registered
the opportunity to purchase an official Kennel Club pedigree, taking pride in your breeding
the ability to sell puppies registered with The Kennel Club through our Find a Puppy service, which receives thousands of searches every day
breeding recorded in The Kennel Club Breed Record Supplement
all breeders who register their puppies with The Kennel Club accept our jurisdiction and undertake to abide by our General Code of Ethics
new owners benefit from five weeks of free pet insurance
new owners gain access to an unparalleled source of information, experience and advice on dog welfare, health and breeding, as well as dog and puppy training
Eligibility for registering

The Kennel Club Breed Register is only available:

to those puppies whose parents are in the correct registered ownership as recorded with The Kennel Club
to puppies where the sire was mated with a dam of the same breed, who is also registered with The Kennel Club
both of the dog's parents are of the same breed, currently recognised by The Kennel Club
the breeder is the registered owner of the dam
the dog was born within the UK

Please note that only the breeder of the dog may apply to register puppies that have been bred.
Registrations - frequently asked questions

1. How do I register pedigree puppies with The Kennel Club?

Complete the litter registration form (form 1) online or download and complete the PDF version.

The breeder is the person who owned the dam at the date when the puppies were born and must be the registered owner of the dam. The stud dog owner should complete their details and sign the form.

2. Can any pedigree puppy be registered with The Kennel Club?

Both mother (dam) and father (sire) of the litter must be registered with The Kennel Club first. Ownership details of both parents must be correct at time of mating for the stud dog and date of birth for the dam.

3. Are there any restrictions that would prevent me from registering my pedigree puppies?

Yes, if any of the following apply:

The dam has already reached the age of 8 years at the date of whelping (relief from this restriction may be considered, as long as an application is made prior to the mating, the proposed dam has previously whelped at least one other registered litter, and the application is supported by veterinary evidence as to the suitability of the bitch involved in the proposed whelping), or

The dam was under 1 year old at the time of mating, or

The offspring are the result of any mating between father and daughter, mother and son or brother and sister, save in exceptional circumstances or for scientifically proven welfare reasons, or

The dam has already had two litters delivered by caesarean section, save for scientifically proven welfare reasons, as long as the application is made prior to the mating, or

The dam was not resident at a UK address at the date of whelping, or 

If either the dam or sire are endorsed with progeny not eligible for registration (i.e. that there is a restriction on file at The Kennel Club that prevents any puppies from being registered). Please refer to your owner certificate if you are unsure, the endorsement will be clearly displayed

The Kennel Club rules and regulations can be found in The Kennel Club Year Book.

4. Is there a time limit to register a puppy on the breed register?

There is no time limit. However we advise that the breeder registers all the puppies in the litter at the same time at approximately 4 weeks of age. This means that the documents can be received in time to pass them to the new owner, so they can then complete change of registered ownership.

Additions to a litter or registering a puppy over 12 months of age would be subject to a late registration fee.

5. My bitch has had two litters within a 12-month period. Can I register the litter?

We do not endorse this and would recommend that at least a year is given between litters. We do understand that sometimes accidents can happen or a bitch can have irregular seasons. In such circumstances, a second application will be accepted. Breeders who breed more than four litters per year must be licensed by their local authority. Breeders with fewer litters must also be licensed if they are carrying out a business of breeding dogs for sale.

According to The Animal Welfare (Licensing of Activities Involving Animals) (England) Regulations 2018, licence holders in England must ensure that no bitch:

is mated if aged less than 12 months
gives birth to more than one litter of puppies in a 12-month period
gives birth to more than six litters of puppies in total
is mated if she has had two litters delivered by caesarean section.

Regulations may differ between nations. Please see our breeding regulations information page for more detail about which regulations apply.

6. My bitch is under 12 months of age. Can I breed from her or register a litter?

In line with the Breeding and Sale of Dogs Welfare Act 1999, The Kennel Club cannot consider the registration of a litter from a bitch that has been mated under 12 months of age.

7. My bitch is over eight years of age can I register puppies?

The Kennel Club will normally only register a litter out of a bitch that is over 8 years, provided prior permission has been granted by our Board.

To request permission, please complete the bitch over 8 permission form and submit with a letter from a veterinary surgeon confirming that the bitch is in good health. Once reviewed, we will advise if the application has been successful.

8. I have bred over four litters in a 12-month period, can I register a fifth?

If you have bred over four litters in 12 months, we would require a copy of your breeder's licence, obtained from your local council, before we can register future litters.

9. How do I register a litter if an overseas sire has been used?

When the sire is registered overseas, you need to provide us with a certified copy of the three generation pedigree issued by the overseas kennel club. This will need to confirm the pedigree details and the current registered ownership. This needs to be sent with the litter application form. There is a fee to record the sire. If the dog in question has already been recorded, we require no fee or pedigree to be sent, unless the ownership has changed.

If the sire resides overseas, you are unable to register the litter online.

10. My bitch has had puppies overseas. How can I register?

If you reside outside of the UK, any litters whelped would be out of our jurisdiction. Please contact the kennel club of your country for advice on registrations.

11. Do you accept half brother and sister matings?

At present the only close matings we do not accept are:

father and daughter
mother and son
brother and sister

We therefore would accept half brother and sister matings, although it is always advisable to contact the breed club for breeding advice and also check our current breeding regulations prior to mating.

12. What are the rules regarding naming of puppies?

A name must consist of more than one word but not exceed 24 letters (including a kennel name)
A name which conflicts with an approved current kennel name granted to another person will not be accepted
A registered name cannot be repeated within a breed
The surname of the applicant is not acceptable
A word cannot be repeated when naming puppies
If a kennel name is to be used when registering a litter, the kennel name must appear as the first word in the name
Numbers in figures and initials are not acceptable and abbreviations may be disallowed
Canine terms are not permissible e.g. 'dog', 'bitch', 'kennel', 'champion', 'Crufts' and specific names of breeds

13. How much does it cost to register?

The cost is £17 for each puppy to be registered. The Kennel Club Assured Breeders pay £15 per puppy. This registration will remain on The Kennel Club's breed database as a permanent historical record of the breed.

14. Can you help me find new homes for my puppies?

We offer Find a Puppy to help you find suitable homes for your puppies.

The service cost starts at £20 and once your litter is registered and your advert approved, your ad will appear on our web site for two months. You can request this service when applying for your litter, or after the litter has been registered through your online account.

15. How do I go about placing endorsements on my own puppies?

You can do this at the point of registration providing that the dog is in your physical possession. You can place an endorsement by completing the appropriate section on the form during the registration process. The breeder must advise any prospective new owner in writing that there is a restriction on the puppy prior to the puppy being collected. (Any such agreement must be in writing and signed by both the breeder and new owner). Details on endorsements can be found below under the heading 'information about Kennel Club endorsements'.

16. How long does it take for a litter registration?

As a guide, please allow 14 days for the processing of registration applications that have been completed correctly. However, if there are any queries arising this may delay the process. Please note that other additional documents/products, such as pedigrees, will be mailed out under separate cover.

17. How old does a male dog have to be before he can sire a litter?

We do not have any age restrictions on using a dog for sire, although it is advisable to ensure that any relevant health tests have been completed before breeding. Read more about using your dog at stud.

18. What is the difference between a registration certificate and pedigree certificate?

Upon registering a litter of puppies you will automatically receive a registration certificate for each puppy that has been registered. The pedigree certificate can either show three or five generations of the ancestry of the dog and can be likened to a family tree. It is an additional item to your registration.
Breed Records Supplement

The Breed Records Supplement (to the Stud Book) is a quarterly publication where all registration related applications are shown. Your puppies are automatically entered onto it when you register each one.

This includes:

litters
transfer or ownership
change of name
exported and imported dogs
health results

These are listed per breed and published per breed group. All applications entered on our database within each quarter make up each edition.

The supplement is available as a single copy or as a yearly subscription from our online shop or from our publications department by calling 01296 318 540.
Information about Kennel Club endorsements

Currently we permits the use of two endorsements on registrations – Progeny Not Eligible for Registration and Export Pedigree Not Allowed. Neither of these endorsements prevents the dog from being bred from nor sent abroad, but does prevent any litters being registered with us and the dog from being registered by an overseas kennel club.

If you are placing endorsements on your litter it is now a mandatory requirement that you use The Kennel Club Endorsement form to ensure that puppy buyers confirm through signing the template form that they know the endorsement has been placed on the registration record for their puppy. Only this form will be accepted by us as sufficient notice of endorsements in the event of any challenge or dispute.

Why are Kennel Club endorsements placed?

The use of Kennel Club endorsements is undoubtedly beneficial to breeders as a measure to help in protecting stock which has been carefully and responsibly bred. It is generally assumed that breeders endorse their stock to safeguard the dog's future, the breed and themselves. As some breeds can be prone to suffer from particular health problems, the breeder should ensure that any stock bred by them is examined under any relevant health schemes prior to being bred from. There may also be concerns about sending dogs to certain overseas countries and therefore using the Export endorsement may help to prevent the dog falling into the wrong hands.

How can these endorsements be removed from a dog's registration record?

To remove an endorsement, it is a simple matter for the person(s) who placed the endorsement to write in to the registration office and request that this be carried out. An acknowledgement will be sent to them to confirm that the endorsement has been removed and it is then the responsibility of the endorser to advise the owner of the dog that this has been carried out.

What should I do if the person(s) placing the endorsement will not remove it?

Problems can arise when the new owner makes a request to the person(s) who placed the endorsement for this to be done, only to be told that they have no intention of doing so. This is an area where disputes can arise particularly with purchasers claiming they were not aware that the newly purchased dog would be subject to certain restrictions.

The parties concerned are expected to try and resolve the matter amicably between themselves. However, if an agreement regarding the removal cannot be reached, The Kennel Club is often asked to intervene in what can sometimes be a very difficult situation, especially when there are conflicting views on whether the breeder advised the purchaser of an endorsement at the time of sale.

The Kennel Club cannot comment upon the contents of a private contract, especially relating to whether any terms described therein have been met or not, but can only look at whether the endorsement has been placed in accordance with our rules and regulations.

In order to comply with The Kennel Club rules on placing endorsements, The Kennel Club requires that the dog be in the physical possession of the endorser and that they obtain a written agreement, ideally in the form of a private contract, signed by the new owner to acknowledge that they have been informed that an endorsement has been placed. If endorsements are being used, it is helpful to both parties if the contract mentions why these have been placed and under what conditions they would be removed (if at all). This contract must be signed and dated by the purchaser showing that they have been informed of the endorsement prior to or at the date of sale. Even if the breeder chooses not to draw up a full contract, there must still be a document stating which endorsements have been placed, signed by the purchaser.

If the new owner believes that the endorsement(s) has not been placed in accordance with our rules and regulations, and they are unable to reach an agreement regarding the removal with the person who placed them, the owner of the dog can apply in writing to The Kennel Club to request the removal of the endorsement.

Regulation B12 – Endorsements

a) General. The registered owner of a dog may, whilst the dog is still in his physical possession, apply to place one or more endorsements in a dog's records and to have the registration certificate annotated accordingly. The endorsements which may be placed as follows:

1. Progeny Not Eligible for Registration

2 Not Eligible for the Issue of an Export Pedigree

b) Conditions. The following conditions shall apply to the placing and removal of endorsements:

1. When a dog whose registration is endorsed is transferred to new ownership, the endorsement will be maintained. However, the person who placed the endorsement(s) must obtain written and signed confirmation from the new owner(s), or an agent or authorised representative of a new owner(s), at or before the date on which the dog is physically transferred, that the new owner is aware of the endorsement(s), regardless of whether or not the endorsed registration certificate is available. If requested, the person(s) who placed the endorsement must be able to produce a copy of such confirmation

2. If the endorsement is not drawn to the new registered owner's notice, and an acknowledgement in writing of the endorsement, signed at the date of transfer by the new owner is not obtained, then any conflict regarding notice of the endorsement will be resolved in favour of the new registered owner. The endorsement will remain on the register, unless a successful application is made by the new owner of the dog under Regulation B12b.(3) on the next page

3. If the new registered owner of a dog did not have notice of the endorsement, that person may apply to the Kennel Club Board who will resolve in their discretion whether or not the endorsement should lapse. Any endorsement may be lifted only with the permission in writing of the endorser or of a person with due authority from the endorser (in the event the endorser cannot give permission due to death or incapacity) or by resolution of the Kennel Club Board

4. Regulation B12b 1), 2) and 3) only apply where the registered owner who originally placed an endorsement on a dogs record, transfers the dog to a new ownership. If subsequent transfers take place, the endorsement becomes a matter between the parties involved. In such cases the registered owner placing the endorsement shall not be responsible if notification of the endorsement is not given to any new owner, and may exercise his right to decide whether the endorsement be maintained or removed subject to (5) below

5. The Kennel Club Board reserves the right to impose, remove or maintain any endorsement. In particular, The Kennel Club Board reserves the right to impose an additional endorsement "not eligible for entry in any event held under Kennel Club rules and regulations, nor any unlicensed event recognised by The Kennel Club"

6. The Kennel Club Board reserves the right to impose the additional endorsement "not eligible for entry at Kennel Club licensed breed shows or unlicensed breed events recognised by The Kennel Club".
The first eight weeks of your puppies' life
The list below will help you know, what to expect so you can be prepared to support your puppies in their first few weeks of life.
Weeks 1 and 2

This should be a quiet time for both the mother and the puppies, as this is the time when the maternal bond is established. You should be gently handling the puppies to check on good progress and generally ensuring the mother and puppies are doing well. Any causes for concern should be discussed with your vet.
Week 3

This is the first week of socialisation and habituation. It's a really important week – and a busy one!

In week 3, the puppy's eyes start to open and while their vision is initially poor, they can see movement, although they may not notice stationary objects. Puppies also start to hear what is going on around them. This is the time to introduce the sights and sounds of family life. Anything they see or hear now will be accepted as normal.

In this week, the puppy is also starting to learn about their social group. They learn to recognise their mother, littermates and also humans as being part of their family too. This is when they start the bonding process. 

Suggested tasks:

Make sure the puppy gets to hear as many sounds as possible
Provide lots of different things to look at
Handle, cuddle and pick up the puppies regularly, making sure they are being held in a comfortable, upright and natural position and are being fully supported
Week 4

In week 4 the puppy is starting to develop their play behaviour, and also, if given the chance, their problem-solving behaviour. It is also a good time for him to begin to learn how to deal with the inevitable frustrations in life.

This is also the week to start to spend more time with each puppy individually – slowly increasing the time they spend away from their littermates and their mother. This will help to prevent separation problems, will develop independence and will encourage bonding with humans.

Suggested tasks:

Add things that the puppies can begin to experiment with - tug toys, kongs, tunnels etc. 

Allow each puppy one-to-one time, taking them out of the pen, away from their littermates, spending progressively longer time with them

Allow your puppies to visit the garden/patio - although always do this under supervision to avoid any accidents
Weeks 5-7

These weeks are a crucial time for the puppy's brain development. This is when puppies are at their most curious and willing to approach people, but at the same time their natural fearfulness starts to be shaped by their environment.

Suggested tasks:

Put more interactive toys into the puppy pen at times when you can supervise

Once the puppies are eating solid foods happily, feed them from different bowls – plastic, metal, from your hand etc.
Over the next couple of weeks, try and make sure the puppy meets as many different people as possible
Week 8

For most puppies, week eight will be their last week before going off to their new life, as this is when most breeders send their puppies off to their new homes.

The breeder should have prepared everything they need to give the new dog owner, like a puppy pack, a contract and registration documents.
Selling your puppies
We can help you find suitable homes for your new puppies. Find a Puppy provides contact details of breeders who currently have Kennel Club registered pedigree puppies for sale in the UK.

You can advertise your whole litter for a period of two months from only £20. If you are an assured breeder or you are selling vulnerable native breed puppies, the service is free.
Benefits of advertising with us

All adverts are free to view by potential puppy owners
Puppies advertised are registered with The Kennel Club, which gives peace of mind to the puppy buying public
Over 300,000 searches are made each month by potential puppy owners
Security, only your town/region with contact details (name and telephone) are advertised, ensuring only invited customers view the puppies for sale
Customers can contact you via a contact form, to prevent possible misuse of your email
Feedback from breeders who have used the service found that new owners have taken time to research the breed
Actively manage your advert within your account, including marking individual puppies as sold and removing your advert if you sell all of your puppies before the expiration date
How do I get in contact to advertise?

If your litter has already been registered with The Kennel Club and you now wish to advertise the puppies for sale, please visit your online account where you can request a new advert, or manage existing adverts.
Things to ask your potential puppy buyers

It's important that every puppy goes to a good home. Here are some things to consider when deciding who to sell to. 

Find out if the people who want to buy the puppy have done their "homework" on their chosen breed
Try to meet the whole family, including any children if possible
Ask potential owners if they have any other dogs or pets
Find out whether the dog is wanted purely as a pet, or whether they may be interested in breeding at a later stage. If you have placed endorsements on the puppy's registration certificate, the new owners will need to agree to these in writing before or at the date of sale. The new owner may also want to compete at events licensed by The Kennel Club
Do not mislead people regarding the dog's characteristics and the care it requires, particularly of the coat. Incomplete information for the new owner may result in the puppy being returned to you, or being sold on
Find out if the potential owner has the time and inclination to groom an adult dog, particularly for long coated breeds
Find out how much time they spend at home. It is not necessarily a bad thing if they are out all day, provided they can take the dog to work with them
Find out more about where they live e.g. do they have a fenced garden? Some breeders like to conduct a home check before selling a puppy. You could always ask for photographs if it is not possible for you to visit the house in person. Do not automatically rule out flat dwellers - as long as they are willing and able to walk the dog regularly, they may be able to offer a suitable home. It can even be the case that the dog is better off, as they don't just have the option of putting it out in the garden for exercise

Finally, do not sell to anyone if you are not sure that their home is right for the puppy.
After you have sold your puppies
Where can I find out more?
You can find out more about breeding, pregnancy and raising puppies in a number of films available on 
The Kennel Club Academy
.