The Kennel Club Art Gallery is world class collection of art and artefacts about dogs. Situated in Mayfair, London, The Kennel Club Art Gallery is open by appointment to all art lovers with an interest in dogs and we welcome visitors from all over the world.  Get in touch to arrange your visit.
Our collection
Our Collection includes paintings, drawings, prints, trophies sculptures, ceramics and much more. Our artefacts date from the 1st century up to the present day with special focus on works from the 19th and 20th centuries.
Our oldest item is a Celtic coin dating from AD 8 – AD 41, which is decorated with the image of a Hound. One of the most well-known dog paintings we have is entitled 'An Early Canine Meeting', dated 1855, which shows the very early beginnings of dog showing. We also hold the world famous Keddell Memorial Trophy for Best in Show at Crufts.
Featured artists include
Maud Earl
Sir Edwin Landseer
Richard Ansdell
George Earl
Frances Fairman
Reuben Ward Binks
Margaret Collyer and many more
A selection of prints taken from our art collection are
available for purchase.
Current exhibitions
In the main gallery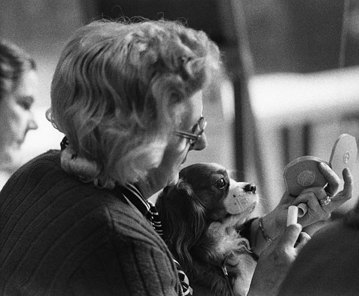 © Shirley Baker Estate / Mary Evans Picture Library

4 November 2021 until 1 April 2022
An exhibition of 30 original prints by photographer Shirley Baker
The Art Gallery is currently open but pre-booking is essential at this time

The exhibition combines photographs taken by Shirley Baker in the UK and her home in France, including pictures of dogs in everyday settings, as well as at dog shows, providing an insight to her affection and admiration for man's best friend. 29 black and white prints, one colour print, and a duo of Shirley's personal cameras are on display.

Born in 1932 in Salford, Shirley Baker took up photography at the age of eight. She is best known for her street photography, and her photographs offer a unique window into different parts of British society in transitional period after the Second World War and throughout the following decades. Her work was regularly displayed at the Print Room of the Photographers' Gallery, London.
For more information on this exhibition please email The Kennel Club Art Gallery.
In the art gallery foyer
Julie Brenan: A Celebration
8 September 2021 until 1 April 2022
This exhibition of the late Julie Brenan's work incorporates a number of paintings that demonstrate the breadth of her oeuvre and includes examples from the world of dog shows as well as more informal commissions.
With a career spanning more than 30 years, Julie's work is well-known in the world of dogs. In 1979 she was commissioned by Pedigree Petfoods to paint the Crufts Best in Show Winners and did so for the next 18 consecutive years.
Julie also had many public and private commissions including painting Prince Michael of Kent's yellow Labrador, Sponge and Her Majesty The Queen's Dorgi's and Corgi's at Windsor Castle. She also held a large exhibition of her work at Liberty's of London, in conjunction with Battersea Dogs Home.  She also exhibited internationally.
In memory of Julie Brenan (1948 – 2020).
On the art gallery contemporary dog photography wall
British Vulnerable Breeds by Madeline Eliza Photography
1 December 2021 until 1 April 2022
Celebrating our British vulnerable breeds – a selection of contemporary photographs by professional dog photographer, Madeline (Maddie) Eliza a Young Kennel Club member and Kennel Club agility competitor.
Vulnerable native breeds are dog breeds of British and Irish origin that are considered to be vulnerable due to their declining registration numbers. These breeds are at risk of disappearing from our parks and streets, simply because people don't know they exist or because they aren't considered fashionable.
Upcoming Exhibitions
The Art of the Earl Family is coming in May 2022 and features the work of famous canine artists Maud Earl and the father George Earl.  The exhibition also features artwork by their extended family members, also artists. 
Tours
Book your place on our tour on the 30 March 2022. Our tour commences at 11am, with refreshments served on arrival. Lunch is also available for a small charge. There is a small tour attendance charge of £6 per person.
On our tours, visitors get to experience the world class Kennel Club Art Gallery and Library and to see more of The Kennel Club art collection on a guided tour of the building, delivered by our expert curators. The Kennel Club is an unparalleled source of information on dog welfare, dog training and dog breeding. Visitors get to learn more about The Kennel Club's efforts to improve the health and welfare of thousands of dogs in the UK. 
Private tours for groups
For a small charge of £5 per person, we can organise private tours on a date to suit you (minimum of 10 people, subject to availability).
All tour places must be booked in advance.
Make a tour booking
Contact us
Opening hours by appointment: Monday to Friday 9.30am - 4.30pm
Contact us via email
Phone us on 0207 518 1064