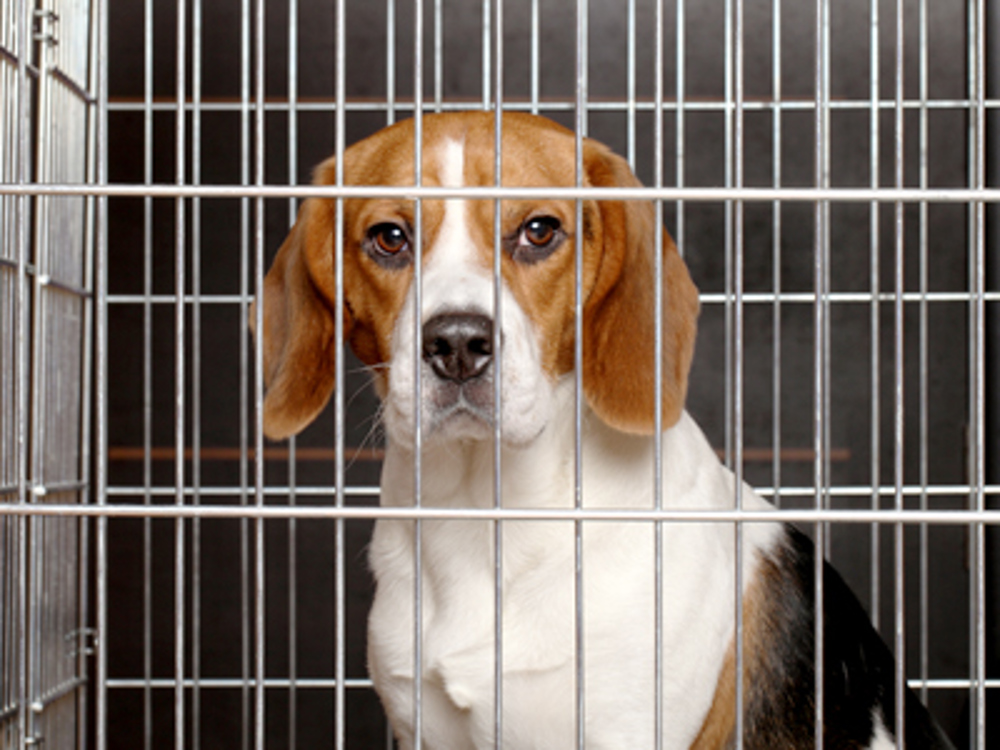 The Kennel Club is opposed to the use of dogs in animal experiments which are conducted for the primary benefit of humans, and has significant concerns over the use of dogs in regulatory toxicity testing. According to Home Office, 2,679 dogs were used in scientific procedures in 2019 in the UK. Some dogs were used in multiple scientific procedures, with a total of 4,227 procedures conducted on dogs in 2019. [1] 
Over 60% of the 4,227 scientific procedures involving dogs were carried out for regulatory tests in the development of medicinal products for human use, with 1% of all regulatory procedures identified as being required for the development of veterinary medicines.[2] The remaining procedures can be attributed to other forms of regulatory testing, incorporating testing of pesticides etc, and fundamental research aimed at improving human and/or animal health.
25 beagles were genetically altered to introduce a 'harmful phenotype', this is a genetic alteration which will cause the beagle to be likely to experience, as a consequence of the genetic alteration pain, distress, suffering or lasting harm equivalent to, or higher than that caused by the introduction of a needle in accordance with good veterinary practice.
Key statistics published by the Home Office, July 2020

2,679 dogs were used in scientific procedures in 2019 in the UK
4,227 scientific procedures were conducted on dogs in 2019 in the UK. The overwhelming majority were performed primarily for human benefit
Since 2014, 17,761 dogs have been used in 26,237 scientific procedures
More information on regulatory tests

Of the 4,107 scientific procedures carried out on dogs in the UK in 2014, just over 70% were carried out for regulatory tests in the development of medicinal products for human use.

Regulatory tests is an umbrella term which incorporates a number of different types of tests. In 2014, the majority of the regulatory tests involving dogs, and indeed over 50% of all procedures conducted on dogs, were "repeated dose toxicity" tests. [3] This form of testing is used to determine whether continuous exposure to a substance, i.e. a potential medicinal product, becomes poisonous over a prolonged period. [4] The dogs may be injected with, or fed drugs and chemicals and then observed for signs of adverse (toxic) effects that can include vomiting, internal bleeding, organ damage, seizures and death. These tests commonly last for several months, or longer, and at the end of these experiments, the dogs are euthanised so that autopsies can take place. [5] [6] [7] 

Most commonly dogs are used as a second species in these regulatory tests, with rodents typically being the first species employed. The use of two species in these types of tests is a worldwide requirement. However, a 2013 study questioned the benefit of using dogs in these second-species tests. The study, published in a peer-reviewed scientific journal, analysed historical data from 2,366 drugs which had been approved for human use. It concluded "this analysis of the most comprehensive quantitative database of publicly available animal toxicity studies yet compiled, suggests that dogs are highly inconsistent predictors of toxic responses in humans, and that the predictions they can provide are little better than those that could be obtained by chance ― or tossing a coin ― when considering whether or not a compound should proceed to testing in humans." [8] 

In light of this research, The Kennel Club would like to see an independent review of whether the use of dogs in second-species testing is still justified or whether more suitable alternatives are available.

8. Bailey, J.; Thew, M.; Balls, M. An analysis of the use of dogs in predicting human toxicology and drug safety. ALTA 2013, 41, 335-350.
The Kennel Club's view

We are strongly opposed to the use of dogs in chemical toxicology and drug safety evaluation conducted primarily for the benefit of humans. Whilst we acknowledge that testing may currently be required by national and international legislation, we believe animal testing should be kept to an absolute minimum and be used only when alternative testing is not possible.

We fund and support the work of FRAME (Fund for the Replacement of Animals in Medical Experiments) to carry out research projects on the use of dogs in laboratories, with the aim of developing a scientific strategy to minimise, and eventually eliminate, the use of dogs in biomedical research and testing. In addition, The Kennel Club Charitable Trust has provided project funding towards this aim.

Where animals continue to be used in animal experimentation, we strongly support the principles of the 3Rs (Refinement, Reduction and Replacement), as the guiding principles which underpin the humane use of animals in scientific research:

Refinement: improving scientific procedures and husbandry to minimise potential pain and suffering and improve animal welfare in situations where the use of animals is unavoidable

Reduction: improving test methods to enable researchers to obtain comparable levels of information from fewer animals or more information from the same number of animals

Replacement: finding replacements to animal testing e.g. computer modelling

In spite of the Animals (Scientific Procedures) Act 1986, which insists that no animal experiments should be conducted if there is a realistic alternative, evidence suggests more needs to be done to ensure animals are not used in testing unnecessarily. [9] [10] To help enable this, more resources are required for the advancement of the 3Rs.

Additionally, improved standards in reporting of animal experiments are required, along with greater transparency of the use of animals in experiments to avoid unnecessary duplication of experiments. [11] [12]

While dogs continue to be used in animal experiments, it's essential that appropriately high standards of animal welfare are adhered to in all animal testing establishments and associated breeding facilities. [13] [14]
The Kennel Club's recommendations to Government

We believe the number of live experiments could be reduced and the welfare of laboratory dogs improved by:

the Government commissioning an independent review of whether the benefits derived from using dogs in second-species toxicity tests justify their use, and whether more suitable alternatives are available
the Government delivering on its pledge to increase the transparency of animal testing and remove the so-called privacy clause (section 24) from animal testing legislation. This is supported by both the scientific industry and animal welfare campaigners [15a] [15b] 
a requirement for establishments, including breeding facilities, to have a policy to rehome dogs whenever possible and for accurate statistics on rehoming of laboratory animals to be published annually
the Government working with the scientific sector and funding bodies to improve the reporting of animal testing. Requiring the publication of all results from animal experiments (both positive and negative) to avoid unnecessary duplication, with allowances for the protection of genuinely commercially sensitive information
reviewing the welfare of dogs in laboratories including breeding, transportation, housing, nutrition, health, handling and euthanasia, to ensure that all efforts to reduce suffering are being implemented
increasing funding to develop alternatives to animal testing
How can you help?

With over 8 million dogs in the UK, the dog-owning population accounts for approximately 25% of the British public, meaning that dog issues can have widespread voting appeal.

The way to keep politicians interested in canine welfare is to speak to them about your concerns on a particular issue, e.g. dog walking access, dangerous dogs, puppy farming etc., and ask for their help. You can do this via email, a letter or even a meeting.

The key is to keep their mailbags full with dog issues to ensure that as your elected representative, they keep up to date with the issues that are most important to you, their constituent.
Get involved
If there is an issue you feel strongly about, write a letter to your parliamentary representative lending your support to one of our many campaigns and letting them know how they can help. Your emails and letters don't need to be long, in fact, the shorter the better as politicians are very busy. By doing this you will be playing your part in keeping the welfare of dogs on the political agenda.
Our guide to letter writing

Writing to your Member of Parliament at Westminster (MP), Member of Scottish Parliament (MSP), Welsh Assembly Member (AM), or Northern Ireland Member of the Legislative Assembly (MLA) will inform individual politicians about important campaigns and therefore enable pressing issues to be taken up in parliament much more effectively.

While we know that it is much easier simply to copy a letter and send it off, your parliamentary representative is far more likely to take notice if you write your own letter. Use the guideline below to draft your own letter:

[YOUR HOUSE NUMBER AND STREET][TOWN] [COUNTY] [POST CODE]
[EMAIL ADDRESS]
[PHONE NO.][NAME OF POLITICIAN] [PARLIAMENT OR ASSEMBLY ADDRESS] [DATE]

Dear

XXXXXXX

,

Paragraph 1: Why you are writing

The first paragraph of your letter should always introduce your concerns to your parliamentary representative. For example:

'I am writing to you regarding the issue of

[INSERT TOPIC]

, to ask that you support The Kennel Club's campaign to...'

(This information can be found on the

relevant campaign page of our website

.)

Paragraph 2: What you want to change

Each of the campaign's pages on The Kennel Club's website outlines the organisation's official position and what is being done to try and push for change. This information can act as a guideline for telling your parliamentary representative how existing legislation needs to be amended.

If you are writing to request that your parliamentary representative support The Kennel Club on a specific issue, you may wish to use something along the lines of the following wording as an introduction to the paragraph:

'The Kennel Club acts as a voice for thousands of dog owners across the United Kingdom. Supported by its vast expertise and experience on dog-related matters, The Kennel Club is proposing the following…'

…then write a bullet-point list into your letter.

Paragraph 3: Why these changes are necessary

Providing politicians with evidence will demonstrate that your concerns are valid. Use facts and figures to support your argument, and describe any personal experiences that you may have had to make your case even more powerful.

Paragraph 4: Action points

Tell your parliamentary representative the line of action that you wish them to take on this matter. This could be taking the matter up with their party, raising the issue in parliament, signing an EDM or supporting a specific Bill. If you are unsure what to write in this paragraph,

contact The Kennel Club's public affairs team

for advice.

Paragraph 5: Signing off

Request a reply. You may also wish to arrange a face-to-face meeting to discuss the issue further. Then all that is left to do is sign off:

'I look forward to hearing from you.

Yours sincerely,

[INSERT YOUR NAME]'

Once you have received a reply

To help keep us up-to-date on which politicians are aware/supportive of our campaigns, please photocopy or summarise the response you receive and send it to us

by email

or by post to: The Kennel Club Public Affairs, 1-5 Clarges Street, Piccadilly, London, W1J 8AB.

If your parliamentary representative has agreed to meet with you, read our guide to a successful meeting with parliamentary representatives below.
Our guide to a successful meeting with parliamentary representatives

Attending the surgery of your Member of Parliament at Westminster (MP), Member of Scottish Parliament (MSP), Welsh Assembly Member (AM), or Northern Ireland Member of the Legislative Assembly (MLA) will be the most powerful way of making them aware of pressing canine issues, enabling them to be taken up in parliament much more efficiently.

Most parliamentary representatives hold surgeries where constituents can meet them face to face. Sometimes notices of surgeries appear in local newspapers, but if not you can contact your MP, MSP, AM or MLA's office directly to book your appointment in advance.

Five steps to success

Preparation is key. Make a list of questions/topic areas that you want to discuss with your parliamentary representative. Go armed with facts and figures to support your argument. You should also take a notepad and pen to write down any important points for reference
Be direct. Introduce yourself and what you are there to discuss. State your concerns clearly, countering any opposing points that they may make. Do not become emotional – you will make a stronger argument by being calm and reasonable throughout
Listen and respond constructively. Once you have made your position, allow your MP/MSP/AM/MLA to present you with his/hers. Listen carefully for areas of agreement and disagreement, always be positive and try to ask questions that will probe their personal viewpoint rather than that of their party
Be aware of time. Stick to the issue and try not to get sidetracked into general debate - you will have a limited amount of time with him/her and it is important to make sure you get across all the points you wish to make
At the end of the meeting and beyond… Thank them for the meeting, summarise your discussion and outline the steps you can take going forward. Let them know that they can contact you in the future to discuss the issue further.

Follow up the meeting by writing a thank you letter, summarising your visit and any actions that your MP/MSP/AM/MLA has offered to take. You could also contact them again after a month to see what progress has been made. This will also help to keep the issue fresh in their mind.

For further information or advice, please contact The Kennel Club public affairs department on 020 7518 1020 or

by email

.
Contact your parliamentary representative