Discover Dogs Scruffts heat
£2.00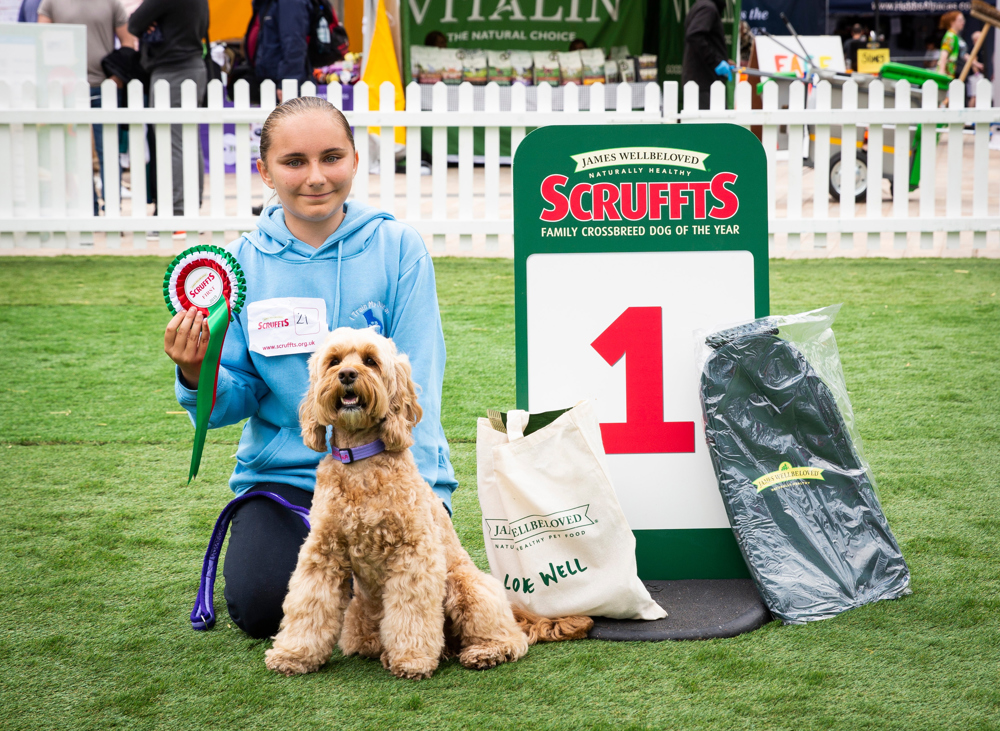 Scruffts, sponsored by James Wellbeloved, is the nation's favourite crossbreed competition and is a great way to enjoy time with your dog and family! Enter our Discover Dogs Scruffts heat which is taking place Saturday 20 November - most handsome dog and golden oldie and Sunday 21 November - prettiest bitch and Good Citizen Dog Scheme crossbreed class.
Terms and Conditions
Eligibility for entry:
Scruffts is a competition for crossbreed dogs only
Dogs must be over 6 months of age to enter a Scruffts class
Dogs over 12 years of age who wish to enter the Golden Oldie will be subject to show organisers discretion
Scruffts rosettes will be awarded to 1st, 2nd and 3rd places in each class. Only 1st place winners in each class are eligible for the Semi Finals at Crufts, however, in the event of 1st place having already qualified then 2nd place (or 3rd place should 2nd have already qualified) will be invited to attend
Photography
By attending the event you consent to being filmed/photographed as part of the audience for security and broadcast without payment
Docking of dogs
The removal of dog's tails was banned in England on 6th April 2007, Wales on 28th March 2007 and Northern Ireland on 1st January 2013 - excluding that for working breeds. In Scotland, tail docking was banned with no exemptions from 30th April 2007. All dogs docked prior to this date may still compete at Scruffts. However, dogs docked after these dates wishing to compete in England, Wales or Northern Ireland may not compete as the law states they cannot do so at any event in which the public pays a fee. Dogs docked after this date and wishing to compete in Scotland may still compete as the Scottish parliament placed no restrictions on dog showing within their docking legislation.
Please make sure that
You abide by the regulations of the show not to bring to the show any dog which has contracted or has been knowingly exposed to any infectious or contagious disease during the 21 days prior to the show or which is suffering from a visible condition which adversely affects its health or welfare.

No dog present in the Scruffts competition should ever have been subject to a Court Control Order or a Contingent Destruction Order under the Dogs Act 1871 or the 1991 Dangerous Dogs Act. The dog owner may be required to assist The Kennel Club in verification of this aspect from time to time.
Further information
Enter our Discover Dogs Scruffts heat which is taking place Saturday 20 November and Sunday 21 November
Saturday 20 November - most handsome dog and golden oldie
Sunday 21 November - prettiest bitch and Good Citizen Dog Scheme crossbreed class