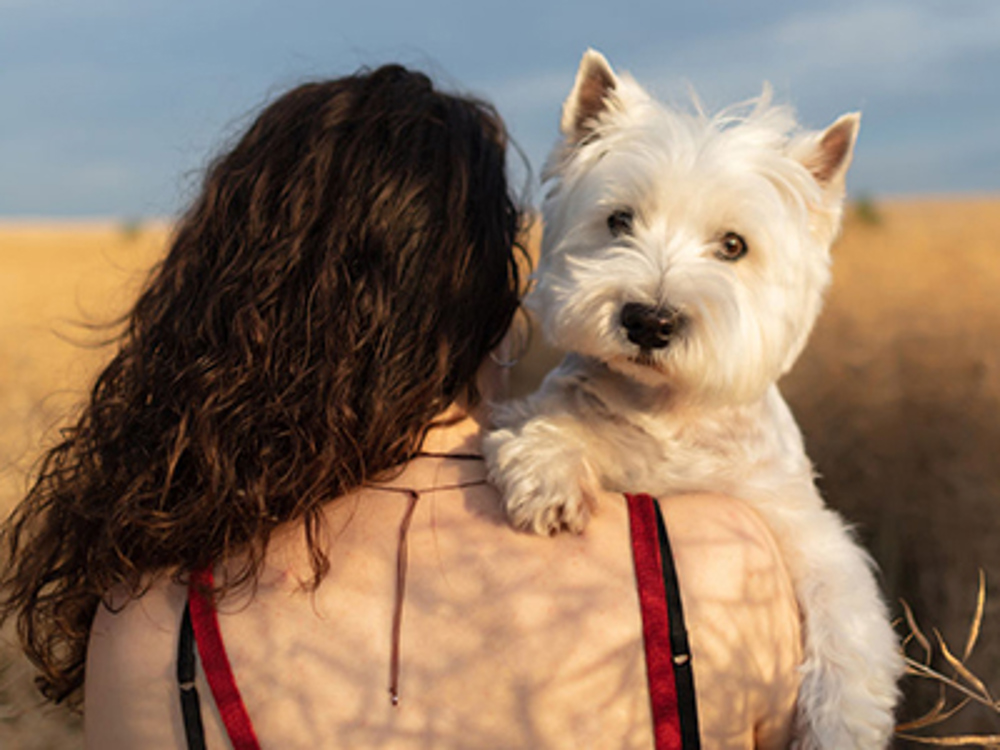 The Kennel Club Charitable Trust donates thousands of pounds each year to worthy causes across a number of categories - support, welfare, science and health.
Below are some organisations and charities who have benefited from the grants they were given. 
Hope Rescue (Welfare)
Hope Rescue helps stray and unwanted dogs in South Wales. The charity coordinates its work across the Llanharan area, with two vans covering thousands of miles annually, picking up dogs in need.
After 12 years of relying on boarding kennels and foster homes, Hope Rescue managed to buy their own rescue centre. Sadly, shortly after they found their new home, a leaking septic tank meant that the site would be closed down. Closing the centre would have reduced the number of vulnerable dogs that Hope Rescue could help, and would have placed the charity in an uncertain position.
How did The Kennel Club Charitable Trust help?

We provided funding to help Hope Rescue find a short-term solution, allowing the team to continue their work and save many dogs from desperate situations. Further funding from the trust enabled Hope Rescue to modernise the septic tank, resulting in a cleaner and safer environment for all the dogs in their care, who have already been through so much. 

Hope Rescue is a small charity that largely depends on funding from other organisations that share their objective – improving the welfare of dogs.

"This level of funding we were lucky to receive from The Kennel Club Charitable Trust is very valuable for us and our bigger projects, which truly make a difference to dog welfare," said Amy Greenfield, a Fundraising Manager at Hope Rescue. "This particular funding means that all dogs in our care have a comfortable and clean place to relax and sleep, and after what many of them have been through, we really feel this is making a difference to their lives for the better."
Refuge4Pets (Welfare)
Refuge4Pets is a unique charity that helps pets belonging to victims of domestic abuse. Victims often can't take their pets with them when escaping their situation, facing an impossible choice of leaving them behind or staying in a toxic environment. The charity provides free fostering services for those much-loved pets until they can be reunited with their owners.
How did The Kennel Club Charitable Trust help?

Refuge4Pets provides food, housing, transport or vet fees for their four-legged residents and relies on donations and volunteers to help owners and pets in need. Supporting their cause, we helped to fund a vehicle so Refuge4Pets could transport animals to safety. The funding also helps to cover the costs of veterinary treatments and fostering for dogs in their care.

Mary Wakeham, Manager at Refuge4Pets commented: "We felt truly supported by The Kennel Club Charitable Trust, knowing they want us to succeed in our mission and make both the human and animal victims of domestic abuse feel safe. Applying for this key funding from the trust was very simple and straightforward – we would encourage other charities to do the same to help in their mission."
SHAK - Safe Homes and Kindness (Welfare)
SHAK takes in over 70 dogs each year who are in need of a safe home. The team provide a sanctuary to abused, mistreated and neglected dogs, saved from the streets or from death, helping to nurture them and find them a loving forever home when they are ready.
How did The Kennel Club Charitable Trust help?

Lots of the dogs saved by SHAK need acute or long-term veterinary care before they can be rehomed and a dedicated vehicle is essential to help the team transport dogs safely and easily. By providing a grant to the charity, we helped to cover rescue and rehoming fees and fund a much-needed transit van for SHAK.

"We are a small organisation, working around the clock to save dogs," said Joan Brittlebank, Head of Fundraising and Trustee at SHAK. "Having a transit van helps us with any transport that our dogs require, whether that is visits to the vets, picking up new dogs from various locations or driving dogs to their new homes. Receiving funding from The Kennel Club Charitable Trust has not only helped us with our day-to-day job but supports our long-term mission to provide safe and kind homes to as many dogs as possible. A grant like this truly does make a difference for dogs."
The British Veterinary Nursing Association Ltd (Other)
The British Veterinary Nursing Association (BVNA) supports and represents vet nurses, who play a vital role in animal care and treatment, via education and training.
How did The Kennel Club Charitable Trust help?

Backing this mission, we provide an annual BVNA bursary to support number of vet nurse students. This bursary helps students cover their degree fees and/or other costs associated with their learning and work placements. This both encourages more people into the profession and enhances animal health and welfare, which is what The Kennel Club is all about.

Alice Theobald, one of the recipients of The Kennel Club Charitable Trust's BVNA bursary, commented: "This bursary helped me to afford accommodation while studying away from home and covered travel costs during my work placement. I was also able to purchase additional learning materials which helped me pass all my exams. I don't think I'd be able to achieve all this without the extra funding and I am very grateful I had a chance to make the most of my course."
Battersea Academy (Welfare)
Officially launched by Battersea Dogs and Cats Home in 2019, the Battersea Academy provides professional development to practitioners from rescue centres across the UK and the world, providing them with knowledge and skills to help them transform the lives of rescue animals.
Rescue organisations are often under resourced and rely on the work of volunteers, and charitable funding, to survive. To help ensure that the Battersea Academy is available to as many organisations as possible, from small volunteer-run shelters to established animal rescues, Battersea applied for funding from The Kennel Club Charitable Trust.
How did The Kennel Club Charitable Trust help?

We are now the founding funder of the Battersea Academy. The funding this year provided bursaries for over 90% of the organisations that attended the Battersea Academy, backing the programme's mission to support rescue organisations, big or small, and help more dogs find temporary sanctuary and then, most importantly, a forever home.

"We were delighted when The Kennel Club Charitable Trust became the founding funder of the Battersea Academy," said Suzie Vlaeminke, Trusts Manager at Battersea. "To have the support of a funder like The Kennel Club Charitable Trust, who have knowledge of the rescue sector in the UK and strong connections with breed rescue organisations, was incredibly valuable."
Rugby Dog Training Club (Other)
Established in 2007, The Avon Valley Canine Trust is an affordable dog training centre that encourages responsible dog ownership and canine activities. This small organisation depends mostly on donations and the generous work of trustees and volunteers to keep the facilities running throughout the year.
How did The Kennel Club Charitable Trust help?

The team of the Rugby Dog Training Club turned to us after realising their bathroom facilities were in need of an upgrade, and addition of disabled facilities. The training club was able to transform its existing facilities after receiving a significant contribution from the trust, which resulted in better customer satisfaction and an increase in the number of people taking part in activities at the club.

"We already had a superb venue with a good following in all disciplines, but it was not until the new facility was installed that we realised just what an impact it had. We cannot thank The Kennel Club Charitable Trust enough for their support in this project," said Jan Stonehouse, a trustee from the Rugby Dog Training Club.
Bulldog Rescue and Rehoming Trust (Welfare)
From finding 'forever homes' to providing a 'crisis support line', Bulldog Rescue and Rehoming Trust helps Bulldogs and their owners with a diverse range of issues, 24 hours a day, seven days a week. The breed's popularity means that the organisation has real demand from both dogs and owners in need.
How did The Kennel Club Charitable Trust help?

Applying for funding from us to assist with mounting vets bills, Bulldog Rescue and Rehoming Trust aims to help all dogs in their care, which often arrive at the rescue in a sad state. The rescue can end up with bills which can reach £7,000 a month.

"Getting any kind of help, small or big, makes a huge difference to our work and enables us to help more Bulldogs in need of veterinary care and new homes, and to support the owners. The application for The Kennel Club Charitable Trust funding was very easy and we would strongly recommend it to any organisation that needs financial help to make a difference for dogs," commented Tania Holmes, Chief Executive Officer at Bulldog Rescue and Rehoming Trust.
University of Cambridge research into Lymphoma diagnosis (Health)
As the largest organisation in the UK devoted to dog health, The Kennel Club supports all kinds of pioneering research through its charitable trust. Dr Elizabeth Soilleux, MA, MB, BChir, PhD, FRCPath, PGDipMedEd and her team at the University of Cambridge spent eight months researching T-cell lymphoma in dogs. The current diagnosis method for both humans and dogs with the disease is time consuming and difficult, so Dr Soilleux's research aims to make diagnosis easier. Faster diagnosis has a huge potential to save more lives – so this kind of veterinary research is critical to improving the lives and health of our four-legged friends.
How did The Kennel Club Charitable Trust help?

Our funding didn't only help with the research itself, but also provided important lab research experience for two veterinary students. Both students have gone on to pursue careers in academic veterinary medicine based on their experience in Dr Soilleux's laboratory, and now have the potential to use their experience and knowledge to bring about real advances in veterinary diagnostics and treatment, and make a difference for dogs everywhere.

"We are very grateful to The Kennel Club Charitable Trust for providing funding for our project which has a real potential to make a better test for canine lymphoma in the near future. The funding substantially supported the project itself as well as the personal development of two exceptional scientists."
Royal Veterinary College
One of the main objective of The Kennel Club Charitable Trust is to drive research into canine health and to continuously improve the health and welfare of dogs. The trust provides financial support to numerous projects and organisations who share this objective, including London-based Royal Veterinary College.
How did The Kennel Club Charitable Trust help?

Among other world-class research, Royal Veterinary College (RVC) is currently focusing on individualised treatment for dogs with immune-mediated haemolytic anaemia (IMHA). Collecting and testing blood samples from sick dogs and understanding the disease activity in their systems helps the researchers to enhance treatments, by being able to better predict how dogs will react to them. Our funding helped with various research expenses.

"We were aware of the funding that the KCCT provides for scientific research and we know how closely aligned our own and KCCT's ambitions are to try improve the health and welfare of sick animals," said the two principal investigators of the project, Dr Barbara Glanemann, senior lecturer in Small Animal Internal Medicine and James Swann, visiting lecturer in Small Animal Internal Medicine at the RVC. "We appreciated how straightforward the process was, as well as the fact that there was no fixed deadline for submission of all documents, which meant we had enough time to prepare our project thoroughly before applying for the funding."
PDSA - People's Dispensary for Sick Animals
PDSA is a UK veterinary charity which provides free and low-cost care for animals in need and promotes responsible pet ownership. PDSA and The Kennel Club Charitable Trust share many objectives, and the health and happiness of animals lies the heart of their work.
How did The Kennel Club Charitable Trust help?

Despite being a nation of animal lovers, funding for animal welfare and health projects is still scarce and The Kennel Club Charitable Trust is one of the very few trusts which provides funding for those projects.

As a charity that provides costly care for minimal fees, PDSA and its hospitals are frequently in need of financial support for new equipment. Funding received by PDSA from the KCCT was used for a new x-ray machine at Oldbury PDSA Pet Hospital in Birmingham, replacing an inefficient and old machine. The new apparatus at Oldbury takes on average over 1,000 scans every year, helping to diagnose various health issues and injuries.

"Over the years we received various funding from the Kennel Club Charitable Trust as our partnership goes back to the 90s," said Stacey Teece, major gifts fundraiser at the PDSA. "The application and entire process is very straightforward and it is refreshing to see an active interest in any project that we discuss with the trust. It is great to feel the support and also the results that the funding makes to our work and our patients' well-being."
Young Gloucestershire
Young Gloucestershire is a regional youth organisation that supports young people from disadvantaged backgrounds. The charity aims to provide young people with skills and confidence that will help them change their lives for the better.
Young people who seek help from the organisation are given unique opportunities to learn new skills and access therapy, as well as career counselling. The charity has proven to have positive impact on the mental health of young people, who could otherwise feel lonely and lost.
Realising the therapeutic powers of dogs, and their positive impact on mental health, Young Gloucestershire reached out to The Kennel Club Charitable Trust for financial support with their Animal Assisted Intervention project.
How did The Kennel Club Charitable Trust help?

This year, with the funds provided by The Kennel Club Charitable Trust, Young Gloucestershire can now employ specialist dog practitioners and a handler for their therapy dog, Buddy. Buddy will also help young people with their reading, supporting them to feel more confident.

Karl Gwilliam, Fundraising Manager at Young Gloucestershire said: "We are so grateful to The Kennel Club Charitable Trust for funding our dog assisted therapy project. The funds help us to employ a dog handler for Buddy and through the therapy, ensure that young people can achieve long-term outcomes."
The Cinnamon Trust
The Cinnamon Trust is the only specialist national charity which seeks to relieve the anxieties, problems, and sometimes injustices faced by elderly and terminally-ill people and their pets. Recognising that for many elderly people living on their own, their pets are their reason for living and their constant companions – on hand 24 hours a day, every day, comforting, loving and protecting their owners – not only from outside threats, but also offering protection from loneliness and despair.
The Trust has a national network of over 18,500 community service volunteers who provide practical help and peace of mind for owners when any aspect of day-to-day pet care poses a problem – such as being housebound or going into hospital. The Cinnamon Trust helps well over 10,000 people a year.
How did The Kennel Club Charitable Trust help?

The Kennel Club Charitable Trust first supported the Cinnamon Trust over 20 years ago, providing funding to help their cause and continue their vital work, as well as for a new sanctuary. The Cinnamon Trust has no charge for any of its services, with the objective of providing 'Peace of mind and practical help for people – love, care and safety for pets'.

"I've been a volunteer dog walker for the Cinnamon Trust for about five years now," says Diana Stenning, who volunteers with the Trust. "It's an honour and a privilege to be trusted with these precious pets that without regular walks, their owners couldn't keep. Not only is getting out in the fresh air great for lifting the spirits, but so is a quick chat with the owners who are always so grateful for your help and support with their much-loved pets. Their dogs really are a lifeline to them in so many ways, picking up their spirits and providing love and companionship every single day."

Sylvia is also a volunteer who walks Missy, for her owner, Anita, every day. She says: "I find that sometimes Uni can be overwhelming or stressful, but it never fails to calm me down going out into the fresh air with Missy. Volunteering for The Cinnamon Trust has been exceptionally valuable, not only because I am getting to help a dog and their owner stay happily together, but also because I am using my time valuably by exercising and making new friends. Anita is no longer just a stranger whose dog I walk, nor is Missy just a random dog I walk - they are both companions that I truly couldn't imagine my life without."
Help us continue our valuable work
By donating to or fundraising for 
The Kennel Club Charitable Trust
 you are directly helping us to improve the lives of dogs everywhere. From funding health research to helping many rescue shelters care for more dogs, your money can help us to improve their lives in a number of important ways. Learn more about the various ways you can donate.
In need of financial support?